Sepsis Pipeline and Clinical Trials Assessment 2023: FDA Approvals, Therapies and Key Companies involved by DelveInsight | Roche, Pfizer Inc., GSK Plc, Viatris Inc., Mylan Inc., AbbVie Inc, Allergan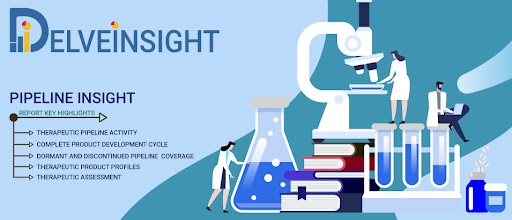 (Las Vegas, Nevada, United States) As per DelveInsight's assessment, globally, Sepsis pipeline constitutes 40+ key companies continuously working towards developing 40+ Sepsis treatment therapies, analysis of Clinical Trials, Therapies, Mechanism of Action, Route of Administration, and Developments analyzes DelveInsight.
The Sepsis Pipeline report embraces in-depth commercial and clinical assessment of the pipeline products from the pre-clinical developmental phase to the marketed phase. The report also covers a detailed description of the drug, including the mechanism of action of the drug, clinical studies, NDA approvals (if any), and product development activities comprising the technology, collaborations, mergers acquisition, funding, designations, and other product-related details.
"Sepsis Pipeline Insight, 2023" report by DelveInsight outlines comprehensive insights into the present clinical development scenario and growth prospects across the Sepsis Market.
Some of the key takeaways from the Sepsis Pipeline Report:
Companies across the globe are diligently working toward developing novel Sepsis treatment therapies with a considerable amount of success over the years.
Sepsis companies working in the treatment market are Fe Pharmaceuticals, Revagenix, Northern Therapeutics, Recce Pharmaceuticals, Artcline GmbH, Inotrem, Shionogi, SciClone Pharmaceuticals, and others, are developing therapies for the Sepsis treatment
Emerging Sepsis therapies in the different phases of clinical trials are- FEP-100, Research programme, GEM00220, RECCE 327, ARTICE therapy, Nangibotide, Cefiderocol, Thymosin alpha, and others are expected to have a significant impact on the Sepsis market in the coming years.
In October 2022, At the International Sepsis Forum held in Barcelona, Inotrem initially presented the findings from its Phase IIb ASTONISH clinical trial that focused on patients experiencing septic shock.
In May 2022, Phathom Pharmaceuticals, Inc. has obtained approval from the United States Food and Drug Administration (FDA) for VOQUEZNA TRIPLE PAK (containing vonoprazan tablets, amoxicillin capsules, clarithromycin tablets) and VOQUEZNA DUAL PAK (comprising vonoprazan tablets, amoxicillin capsules). These medications are intended for treating Helicobacter pylori (H. pylori) infection in adults. Earlier, both products received New Drug Applications as qualified infectious disease products (QIDP).
In May 2022, Sepsis Alliance introduced the Sepsis Innovation Collaborative (SIC), aimed at advancing early detection, improving antimicrobial treatments, and developing host modifying agents for sepsis management. As one of the pioneering public-private collaborative initiatives focused on sepsis innovation, SIC's objectives encompass various improvements. Membership comprises companies like Beckman Coulter, Merck, BioAegis Therapeutics, Roche, and other key industry players.
Sepsis Overview
A host's dysregulated reaction to infection results in sepsis, a potentially fatal organ failure. It can result in septic shock, multiple organ failure, and even death if it is not identified early and treated quickly. Most often, it is a significant infection-related consequence, especially in low- and middle-income countries where it is a leading cause of morbidity and mortality among mothers and newborns.
Get a Free Sample PDF Report to know more about Sepsis Pipeline Therapeutic Assessment-
https://www.delveinsight.com/report-store/sepsis-pipeline-insight
Emerging Sepsis Drugs Under Different Phases of Clinical Development Include:
FEP-100: Fe Pharmaceuticals
Research programme: Revagenix
GEM00220: Northern Therapeutics
RECCE 327: Recce Pharmaceuticals
ARTICE therapy: Artcline GmbH
Nangibotide: Inotrem
Cefiderocol: Shionogi
Thymosin alpha: SciClone Pharmaceuticals
Sepsis Route of Administration
Sepsis pipeline report provides the therapeutic assessment of the pipeline drugs by the Route of Administration. Products have been categorized under various ROAs, such as
Intra-articular
Intraocular
Intrathecal
Intravenous
Ophthalmic
Oral
Parenteral
Subcutaneous
Topical
Transdermal
Sepsis Molecule Type
Sepsis Products have been categorized under various Molecule types, such as
Oligonucleotide
Peptide
Small molecule
Sepsis Pipeline Therapeutics Assessment
Sepsis Assessment by Product Type
Sepsis By Stage and Product Type
Sepsis Assessment by Route of Administration
Sepsis By Stage and Route of Administration
Sepsis Assessment by Molecule Type
Sepsis by Stage and Molecule Type
DelveInsight's Sepsis Report covers around 40+ products under different phases of clinical development like
Late-stage products (Phase III)
Mid-stage products (Phase II)
Early-stage product (Phase I)
Pre-clinical and Discovery stage candidates
Discontinued & Inactive candidates
Route of Administration
Further Sepsis product details are provided in the report. Download the Sepsis pipeline report to learn more about the emerging Sepsis therapies
Some of the key companies in the Sepsis Therapeutics Market include:
Key companies developing therapies for Sepsis are – F. Hoffmann-La Roche Ltd, Pfizer Inc., GSK Plc, Viatris Inc. (Mylan Inc.), AbbVie Inc (Allergan Pharmaceuticals Private Limited), Asahi Kasei Corporation, RegeneRx, Inotrem SAEndacea Inc., Adrenomed AG, and others.
Sepsis Pipeline Analysis:
The Sepsis pipeline report provides insights into
The report provides detailed insights about companies that are developing therapies for the treatment of Sepsis with aggregate therapies developed by each company for the same.
It accesses the Different therapeutic candidates segmented into early-stage, mid-stage, and late-stage of development for Sepsis Treatment.
Sepsis key companies are involved in targeted therapeutics development with respective active and inactive (dormant or discontinued) projects.
Sepsis Drugs under development based on the stage of development, route of administration, target receptor, monotherapy or combination therapy, a different mechanism of action, and molecular type.
Detailed analysis of collaborations (company-company collaborations and company-academia collaborations), licensing agreement and financing details for future advancement of the Sepsis market.
The report is built using data and information traced from the researcher's proprietary databases, company/university websites, clinical trial registries, conferences, SEC filings, investor presentations, and featured press releases from company/university websites and industry-specific third-party sources, etc.
Download Sample PDF Report to know more about Sepsis drugs and therapies
Sepsis Pipeline Market Drivers
Increase in awareness of Sepsis, increase in the Research and Development activities are some of the important factors that are fueling the Sepsis Market.
Sepsis Pipeline Market Barriers
However, side effects associated with the treatment, economic burden associated with the disease and other factors are creating obstacles in the Sepsis Market growth.
Scope of Sepsis Pipeline Drug Insight
Coverage: Global
Key Sepsis Companies: Fe Pharmaceuticals, Revagenix, Northern Therapeutics, Recce Pharmaceuticals, Artcline GmbH, Inotrem, Shionogi, SciClone Pharmaceuticals, and others
Key Sepsis Therapies: FEP-100, Research programme, GEM00220, RECCE 327, ARTICE therapy, Nangibotide, Cefiderocol, Thymosin alpha, and others
Sepsis Therapeutic Assessment: Sepsis current marketed and Sepsis emerging therapies
Sepsis Market Dynamics: Sepsis market drivers and Sepsis market barriers
Request for Sample PDF Report for Sepsis Pipeline Assessment and clinical trials
Table of Contents
1. Sepsis Report Introduction
2. Sepsis Executive Summary
3. Sepsis Overview
4. Sepsis- Analytical Perspective In-depth Commercial Assessment
5. Sepsis Pipeline Therapeutics
6. Sepsis Late Stage Products (Phase II/III)
7. Sepsis Mid Stage Products (Phase II)
8. Sepsis Early Stage Products (Phase I)
9. Sepsis Preclinical Stage Products
10. Sepsis Therapeutics Assessment
11. Sepsis Inactive Products
12. Company-University Collaborations (Licensing/Partnering) Analysis
13. Sepsis Key Companies
14. Sepsis Key Products
15. Sepsis Unmet Needs
16 . Sepsis Market Drivers and Barriers
17. Sepsis Future Perspectives and Conclusion
18. Sepsis Analyst Views
19. Appendix
20. About DelveInsight
About DelveInsight
DelveInsight is a leading Business Consultant and Market Research firm focused exclusively on life sciences. It supports Pharma companies by providing comprehensive end-to-end solutions to improve their performance. It also offers Healthcare Consulting Services, which benefits in market analysis to accelerate business growth and overcome challenges with a practical approach.
Media Contact
Company Name: DelveInsight Business Research
Contact Person: Gaurav Bora
Email: Send Email
Phone: 8774225362
Address:27 Drydock Ave S. Jones Blvd #2432
City: Boston
State: MA
Country: United States
Website: https://www.delveinsight.com/consulting/asset-prioritizaton-services