AskYourPDF Announces Launch: Ultimate PDF Companion for Summaries, Questions, and Answers
AskYourPDF, a pioneering PDF companion that transforms document interaction. With AskYourPDF, effortless access to summaries, questions, and instant answers enhances PDF engagement, making it smarter and more efficient than ever.
LONDON, ENGLAND – 27th SEPTEMBER, 2023 – AskYourPDF announces the launch of a transformative approach to document interaction within an information-driven digital world. AskYourPDF takes reading out of its traditional passive role by introducing documents that provide answers to user questions, making the process to be both easy and engaging.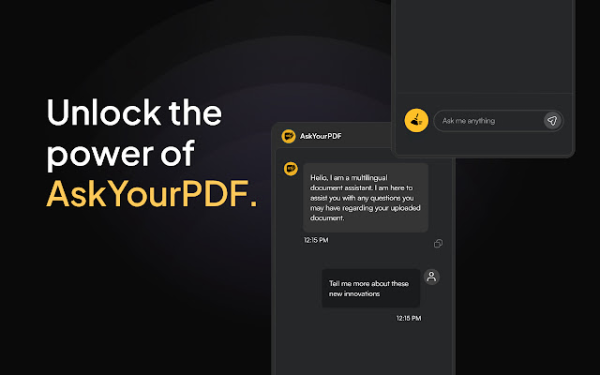 Image Credits: AskYourPDF
AskYourPDF ushers in a new era in the way people interact with documents. Readers are able to enjoy a more interactive and immersive reading experience than has ever been possible before with static documents. AskYourPDF proposes a novel concept by fusing technology and document engagement: papers that react to user concerns, making reading not only easy but also pleasurable.
PDF, TXT, PPT, PPTX, EPUB, and RTF are just a few of the document types that the platform supports. The AskYourPDF Chrome Extension is a particularly noteworthy addition, as it has the potential to become an indispensable tool for anyone who wants to get the most out of their time spent interacting with documents.
Their mission is to transform static documents into dynamic conversation partners. They have used ChatGPT to create dynamic, interactive, and interesting papers. No longer can one get by on mindless browsing or a cursory glance. Upload PDF, pose questions, and get answers straight from the source using AskYourPDF.
AskYourPDF gives users the ability to have conversations with their documents, transforming those documents into interactive chat companions. Users may easily keep a record of their whole learning experience, including all of their interactions, questions, and responses.
The platform's chat system uses artificial intelligence to turn papers into approachable chatbots that are eager to impart their wealth of knowledge and expertise. Users can immediately have a more engaging reading experience just by uploading a document. Furthermore, AskYourPDF's AI features make it easy to get around without resorting to laborious methods. With this newfound interactivity, documents become dynamic tools for quick comprehension and participation.
To learn more, please visit – https://askyourpdf.com/.
To add to Chrome browsers, please visit AskYourPDF – The Best ChatPDF AI Extension.
About AskYourPDF
AskYourPDF is a revolutionary service with the potential to completely transform our relationship with digital documents. AskYourPDF uses ChatGPT to make reading no longer a passive experience, but rather an engaging and dynamic conversation between reader and document. The platform is set to revolutionize the way people interact with documents thanks to its intuitive Chrome extension and wide range of supported file types.
Media Contact
Company Name: AskYourPDF
Contact Person: Oluwasesan Yackson
Email: Send Email
City: London
State: England
Country: United Kingdom
Website: https://askyourpdf.com/