Stuttering Market to Register Stunning Growth During the Forecast Period (2022-2032) – DelveInsight | Key Companies – Emalex Biosciences Inc (Ecopipam)
The Stuttering market size in seven major markets was USD 40 million in 2021, which is further expected to increase by 2032 at a Compound Annual Growth Rate (CAGR) of 13.4 % for the study period (2019–2032). Companies across the globe are diligently working toward the development of novel treatment therapies, with a considerable amount of success over the years. Key players such as Emalex Biosciences and others, are developing novel drugs for the treatment of Stuttering.
DelveInsight's "Stuttering Market Insights, Epidemiology, and Market Forecast 2032" report delivers an in-depth understanding of the disease, historical and forecasted epidemiology, as well as the Stuttering market size, share, trends, and growth opportunities in the seven major markets (7MM) (i.e., the United States, EU4 (Germany, Spain, Italy, France), the United Kingdom and Japan).
The report covers emerging Stuttering drugs, current treatment practices, market share of individual therapies, and current & forecasted market size from 2019 to 2032. It also evaluates the current Stuttering treatment practice/algorithm, key drivers & barriers impacting the market growth, and unmet medical needs to curate the best of the opportunities and assess the underlying potential of the market.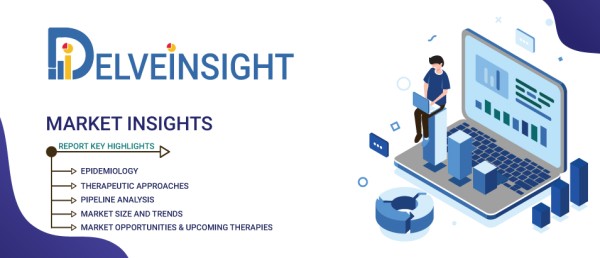 Stuttering: An Overview
Childhood-onset fluency disorder, also known as stuttering or stammering, is a multifactorial speech disorder. It is an interruption in the flow of speaking characterized by specific types of disfluencies that can affect the rate and rhythm of speech. There is no one cause for stuttering. Researchers believe that stuttering is caused by a combination of factors, including genetics, language development, environment, as well as brain structure and function.
Stuttering is most prevalent at the age of five. It typically has its origins in childhood. However, many cases do not start stuttering until later in childhood. Stuttering can start suddenly too; for example, a child might wake up one day with a stutter or it can also build up over time. Stutterers display both repetitions and prolongations as their primary symptoms. The secondary symptoms include avoidance and frustration.
Stuttering Market Key Facts
The United States accounts for the largest market size of Stuttering, in comparison to EU5 (Germany, Italy, France, Spain, and the United Kingdom) and Japan.

Total Stuttering prevalent cases in the 7MM were found to be approximately 3,981,012 in 2021. These cases are expected to increase by 2032 at a CAGR of 0.4% during the study period (2019–2032).

Among 7MM, the United States has the highest prevalent cases of stuttering with 1,636,434 cases in 2021.

The total diagnosed prevalent cases of stuttering in the 7MM were observed to be 878,024 in 2021. These cases are expected to increase during the study period (2019–2032).

Among the European countries, Germany had the highest diagnosed prevalent population of Stuttering with 88,573 cases, followed by the UK with 67,196 cases in 2021. On the other hand, Spain had the lowest diagnosed prevalent population.

In Japan, 132,528 diagnosed prevalent cases of stuttering were recorded in the year 2021.

The expected launch of potential therapy may increase market size in the coming years, assisted by an increase in the diagnosed prevalent population of stuttering.

Upcoming therapy, Ecopipam has the potential to create a significant positive shift in the stuttering market size.
The market outlook section of the report helps to build a detailed comprehension of the historical, current, and forecasted market size by analyzing the impact of current and emerging Stuttering pipeline therapies. It also thoroughly assesses the Stuttering market drivers & barriers, unmet needs, and emerging technologies set to impact the market dynamics.
The report gives complete detail of the market trend for each marketed Stuttering drug and mid & late-stage pipeline therapies by evaluating their impact based on the annual cost of therapy, their Mechanism of Action (MOA), Route of Administration (ROA), molecule types, competition with other therapies, brand value, and their impact on the market.
Stuttering Epidemiology Assessment
The epidemiology section provides insights into the historical, current, and forecasted Stuttering epidemiology trends in the seven major countries (7MM) from 2019 to 2032. It helps to recognize the causes of current and forecasted Stuttering epidemiology trends by exploring numerous studies and research. The epidemiology section also provides a detailed analysis of diagnosed and prevalent patient pools, future trends, and views of key opinion leaders.
The Report Covers the Stuttering Epidemiology, Segmented as –
Total Prevalent Cases of Stuttering in the 7MM [2019–2032]

Total Diagnosed Prevalent Cases of Stuttering in the 7MM [2019–2032]

Gender-specific Diagnosed Prevalent Cases of Stuttering in the 7MM [2019–2032]
Stuttering Drugs Uptake and Pipeline Development Activities
The drug uptake section focuses on the uptake rate of potential drugs recently launched in the Stuttering market or expected to be launched during the study period. The analysis covers the Stuttering market uptake by drugs, patient uptake by therapies, and sales of each drug. Moreover, the therapeutics assessment section helps understand the market dynamics by drug sales, the most rapid drug uptake, and the reasons behind the maximal use of particular drugs. Additionally, it compares the Stuttering drugs based on their sale and market share.
The report also covers the Stuttering pipeline development activities. It provides valuable insights about different therapeutic candidates in various stages and the key Stuttering companies involved in developing targeted therapeutics. It also analyzes recent developments such as collaborations, acquisitions, mergers, licensing patent details, and other information for emerging therapies.
Learn How the Stuttering Market Will Evolve and Grow by 2032 @
https://www.delveinsight.com/sample-request/stuttering-market
Stuttering Therapeutics Analysis
Stuttering is a speech disorder characterized by repetition of sounds, syllables, or words; prolongation of sounds; and interruptions in speech known as blocks. Stuttering affects people of all ages, most often in children between the ages of 2 and 6 as they are developing their language skills. Although there is currently no cure for stuttering, there are a variety of treatments available.
Over the years, some drugs have been investigated to treat stuttering cases pharmacologically but to not much success. Drug molecules such as haloperidol, pimozide, paroxetine, and pagoclone showed positive results initially but could not achieve the desired outcomes in clinical studies.
Emerging and Marketed Stuttering Therapies Covered in the Report Include:
Ecopipam: Emalex Biosciences Inc.
Ecopipam (EBS-101) is an investigational first-in-class drug being evaluated in pediatric patients for the treatment of Tourette syndrome (TS) and childhood-onset fluency disorder (stuttering) in adults. Ecopipam selectively blocks the actions of the neurotransmitter dopamine at the D1 receptor. Emalex Biosciences Inc. is currently investigating therapies for TS in pediatric patients and childhood-onset fluency disorder—also known as stuttering—in adults.
The Report Covers the In-depth Assessment of the Emerging Drugs & Key Companies. Download the Sample Report to Learn More @
https://www.delveinsight.com/sample-request/stuttering-market
Table of Content (TOC)
1. Key Insights
2. Executive Summary
3. Stuttering Competitive Intelligence Analysis
4. Stuttering Market Overview at a Glance
5. Stuttering Disease Background and Overview
6. Stuttering Patient Journey
7. Stuttering Patient Population and Epidemiology Trends (In the US, EU5, and Japan)
8. Stuttering Treatment Algorithm, Current Treatment, and Medical Practices
9. Stuttering Unmet Needs
10. Key Endpoints of Stuttering Treatment
11. Stuttering Marketed Therapies
12. Stuttering Emerging Drugs and Latest Therapeutic Advances
13. Stuttering Seven Major Market Analysis
14. Attribute Analysis
15. Stuttering Market Outlook (In US, EU5, and Japan)
16. Stuttering Companies Active in the Market
17. Stuttering Access and Reimbursement Overview
18. KOL Views on the Stuttering Market
19. Stuttering Market Drivers
20. Stuttering Market Barriers
21. Appendix
22. DelveInsight Capabilities
23. Disclaimer
*The Table of Contents (TOC) is not exhaustive; the final content may vary. Refer to the sample report for the complete table of contents.
Download the Sample PDF to Learn More About the Key Offerings of the Report @
https://www.delveinsight.com/sample-request/stuttering-market
About DelveInsight
DelveInsight is a leading Business Consultant and Market Research Firm focused exclusively on life sciences. It supports pharma companies by providing comprehensive end-to-end solutions to improve their performance.
Other Trending Healthcare Reports by DelveInsight
"Dental Lasers Market Insight, Competitive Landscape, and Market Forecast, 2028" report delivers an in-depth understanding of historical and forecasted Dental Lasers market size, share, and trends globally, which comprises North America, Europe, APAC, and RoW. Moreover, it covers the key companies, emerging products, and commercial & regulatory development, in the Dental Lasers Market.
Media Contact
Company Name: DelveInsight Business Research LLP
Contact Person: Shruti Thakur
Email: Send Email
Phone: 09650213330
Address:304 S. Jones Blvd #2432
City: Las Vegas
State: NV
Country: United States
Website: https://www.delveinsight.com/