Kais Abuzaid shared his secrets for a complete transformation in a tell-all interview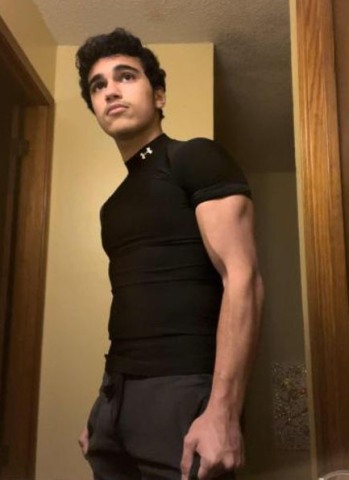 Kais Abuzaid, also known as Kais_eka on Tiktok, has come a long way from being an underwhelming personality to a successful bodybuilder and content creator. In this interview, he shared his secrets for transforming his mindset, strength, and body and achieving success in real and virtual life.
Hello Kais Abuzaid. What you have achieved in the span of 3 years is incredible. Can you share how it was during the initial years of your life?
There is no doubt that a few years back, I was just an average person and had nothing special about me. I recognized early in my life that, unlike other regular kids, I didn't just want to play around and waste my time. So, I started working on my fitness and raised my value as a person with a stronger mindset with consistent effort. Initially, it was tough, but soon I started to enjoy the process.
Was it difficult to work on your fitness without proper knowledge?
Definitely, it was a little difficult to grow my body without knowing anything. I even sustain a lot of injuries during the initial years. But I never lost my confidence and kept learning from my mistakes, and soon I gained overwhelming strength.
With your passion for bodybuilding, was your study ever affected?
Never. In fact, I focused more on my grades and grew my financial mind for future improvement.

You are extremely popular on social media too. Can you please share a little about it?
I've always tried to stand out from the crowd and get more fans. I was able to get 50k followers, a few million views, and some real-world recognition, thank God. I did my best to help my followers solve problems, talk to them, or make them feel better by showing them what they could do. I've also been recognized in real life a few times, which made me really happy and I appreciated everything.
What is the most important experience you had in your life?
There are pros and cons to everything. Hate was something I had to deal with, both online and in real life. I wasn't a dumb kid with nothing going for him, and people thought I was weird for trying to be different. The road is a part that many people don't talk about. Someone could fail at something because of how they got there. You have two choices: end it or keep it. Some people won't have the self-control they should, which could cause them to give up on what they started just because they were seen differently. Other people won't care either way. They will think about the reward because they know it's coming. I went with the second choice. Yes, the words hurt and sometimes made me think twice, but Alhamdulillah, that wasn't enough to change my mind.
What is that important lesson you would like to share with the readers?
It's important to remember the old you and where you started so you can see where you've been and where you are now. Hatred from others can sometimes be good because it can make you stronger. No one would care because it's not very important. I want to get better and build a better life for myself.
I want to thank everyone and God for my actions. Remember that you are a human, and your brain is so much more powerful than Satan's, which has been around for millions of years. Just yesterday, we came up with something we called "impossible."
Thanks, Kais Abuzaid. Where could someone reach you?
I am on TikTok and Instagram.
TikTok: https://www.tiktok.com/@kais_eka ​ ​
Instagram: https://instagram.com/kais_eka1
Email: [email protected]
Website: https://kaisabuzaid.wixsite.com/kaisabuzaid-13y
Media Contact
Contact Person: Kais abuzaid
Email: Send Email
City: Los Angeles
Country: United States
Website: kaisabuzaid.wixsite.com/kaisabuzaid-13y