Vincent Marchetti Updates and Re-Launches His Official Website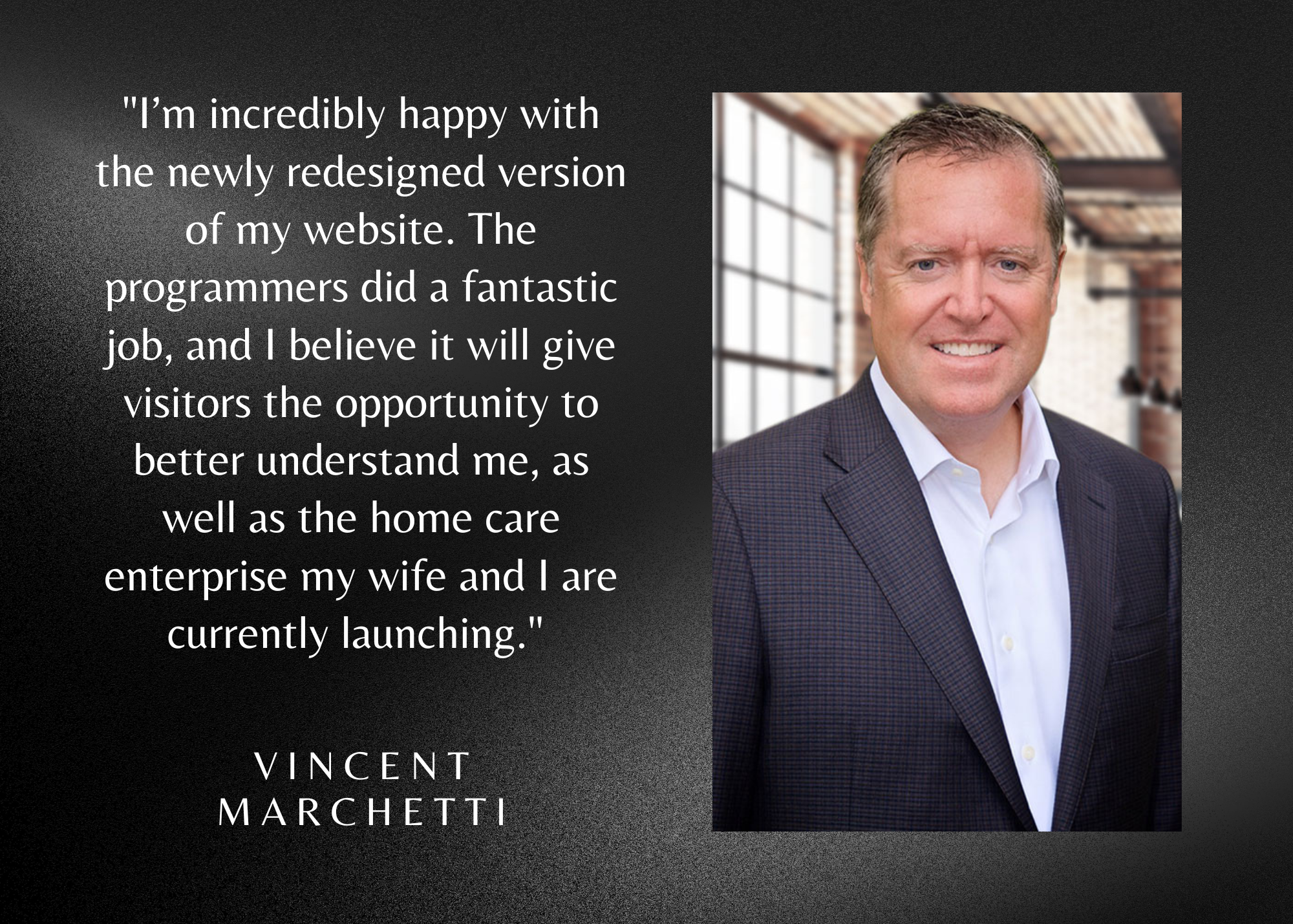 The veteran medical device industry executive and home care industry entrepreneur is proud to announce that his professional website has been totally redesigned and brought up-to-date.
Coronado, California – March 24, 2023 – It is with much satisfaction that Vincent Marchetti, long-time medical device industry executive and home care industry entrepreneur, announces that his professional website has been overhauled substantially, and is now live once more and ready to welcome visitors.
Among the features of Vincent's new-and-improved website is a 'news' section showcasing a wide variety of media, including photographs, articles, interviews, and a selection of blog entries. Of particular note is a candid interview with Vincent Marchetti conducted by the editorial staff of an online periodical that concentrates on matters of business, technology, and thought leadership. In one poignant section of the interview, Vincent is asked to explain the inspiration behind his new venture into home care, which he started with his wife, Lana. "My father had Alzheimer's disease and lived in a memory care center toward the end of his life. My mother has several health issues, including early onset dementia, and lives in a nursing home in Necedah, Wisconsin. She'll soon be moving to a VA (Department of Veterans Affairs) facility in Tomah, Wisconsin. My father-in-law has stage four prostate cancer and my mother-in-law still works full-time as a hairdresser in Muskogee, Oklahoma," he answers, adding, "These examples from our own lives inspired us to create a more affordable and effective alternative to assisted living facilities.
Beyond that, the revamped website features a detailed biography of Vincent Marchetti, as well as the two inaugural entries of a blog written by Vincent himself. The topics addressed in the blog entries mostly deal with Vincent's hobbies, specifically kayaking and tips for staying active generally.
In addition to hosting such exciting and thought-provoking original content, the newly-refurbished website also indicates a number of ways people can get in touch with Vincent over social media, whether it's to inquire about his experiences in the medical device field, ask about his foray into the home care industry, or just to reach out and say hello.
Reached for comment, Vincent Marchetti issued the following statement: "I'm incredibly happy with the newly redesigned version of my website. The programmers did a fantastic job, and I believe it will give visitors the opportunity to better understand me, as well as the home care enterprise my wife and I are currently launching."
An ardent advocate of technology and new media, the completion of the updates to his website coupled with its official re-release marks the realization of a long-held goal for Vincent Marchetti, and he is delighted with the result. Original content will be added to the site on a regular basis.
About Vincent Marchetti:
A graduate of the University of Central Missouri with a B.S. in Business Administration, Vincent Marchetti possesses an extensive commercial expertise for driving sales business growth as a result of his decades of experience in the medical device and home care industries.
With 21 years of medical device experience, including 13 years of outstanding results in the Vascular and Cardiovascular divisions of medical leaders Boston Scientific and Medtronic, Vincent has established himself as an expert in the field, as well as a consummate professional. Previously, he worked for Kinetic Concepts Incorporated as Regional Vice President of the Active Healing Solutions division. Later on, Vincent helped establish two new minimally invasive cardiovascular device markets and successfully saw them through to liquidity events. These included Lumend (acquired by Johnson & Johnson) and Novoste (acquired by Best Medical).
Some of his other career accomplishments include cultivating a track record of building strong sales teams with effective sales processes executed with the highest level of quality, speed, and efficiency. Vincent Marchetti also boasts extensive experience at large, established medical device companies and privately funded, first-to-market firms. He recently completed Nurse Assistant Certification and Medicine Technician Certification in preparation for launching a new endeavor; a home care agency.
Vincent Marchetti currently resides in Coronado, California.
Media Contact
Contact Person: Vincent Marchetti
Email: Send Email
Country: United States
Website: vincentmarchetti.com