Swinerton New York is Bullish on Growth in Office Market Sector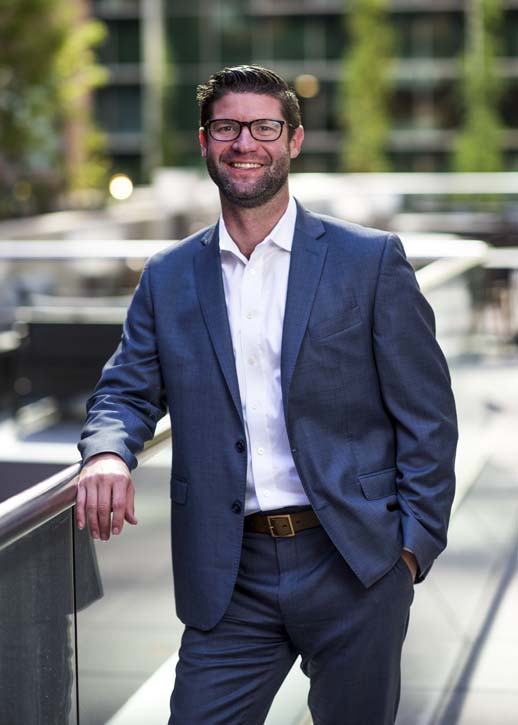 "At the time of our opening, there was great uncertainty in the future of workplace environments in urban cities, such as New York," says Andrew Pearl. "However, as a national bi-coastal construction firm with national accounts to service, we saw the need to support our clients in their efforts to return-to-office in one of the hardest hit areas of the country."
Andrew Pearl came to New York City as Vice President/Division Manager in June 2021 during the height of a pandemic that sent office workers and companies scrambling to other states, the suburbs, the outer boroughs, and to their homes. His primary goal was not only to open and lead Swinerton's first NYC office in the company's 135 year history, but also to aggressively tap into the office market sector.
Since opening the NYC office less than two years ago, Swinerton is completing projects with its national accounts totaling more than 250,000 square feet throughout the New York Metro Area. The work is representative of the company's national accounts, such as Patreon in the tech sector, as well as national brands, such as Live Nation Entertainment. In addition to office interiors and retail spaces at Newark Airport, the company has seen a burgeoning market in self-storage, particularly in the outer boroughs and New Jersey.
"We continue to see the opportunity for growth in the office market segment and will continue to grow as we establish ourselves in this new and challenging market," concludes Andrew Pearl.
Swinerton is not your typical construction services company and comes with a 135-year-old legacy in building expertise. It has flexibility in addressing labor shortages with its self-perform capability in key trades such as drywall, concrete, and doors/frames/hardware. Its affiliate company, Timberlab, a holistic provider of mass timber, addresses the need for alternative building materials that are sustainable and lowers the carbon footprint of buildings. Perq is a first-of-its kind product in collaboration with Walker Consultants that is an innovation to design, build, and deliver pre-designed and pre-engineered parking solutions in 13 months. Swinerton is also servicing East Coast clients in Massachusetts, Pennsylvania, Maryland, Washington D.C., Virginia, the Carolinas, and Georgia.
Founded in 1888 as a masonry and contracting firm, Swinerton put down roots by following the post-gold rush era in Los Angeles. When disaster struck San Francisco in 1906, and a major earthquake destroyed 28,000 structures, many of the buildings left standing were built of concrete by Swinerton, making them the first to pioneer reinforced concrete as a building material to withstand the pressures of California earthquakes.
Swinerton has been a 100% employee-owned company since 1980 in which nearly 5000 employees, half of which represent the trades, share in the company's profits and are thoroughly committed to its success. The Swinerton Foundation is a 501(c)(3) that helps build sustainable cities and neighborhoods by partnering with community-focused non-profit organizations to support health, social services, cultural, education, and environmental programs that benefit all members of the community.
"Being in the New York market has accelerated the company's 15-year business plan to expand both geographically and through sector diversification," concludes Andrew Pearl. "For now, we continue to be bullish on office interiors as our target sector and fulfilling our East Coast expansion plan."
For more information regarding Swinerton, visit www.swinerton.com.
About Swinerton
Swinerton provides commercial construction and construction management services throughout the United States. Founded in 1888, Swinerton is 100% employee-owned and is the preferred builder and trusted partner in every market it serves—proudly leading with integrity, passion, and excellence. Swinerton is headquartered in Concord, CA, with regional offices in Spokane and Seattle, WA; Boise, ID; Portland, OR; Sacramento, San Francisco, Oakland, Santa Clara, Los Angeles, Santa Ana, and San Diego, CA; Honolulu, HI; Denver, CO; Dallas and Austin, TX; Atlanta, GA; Charlotte and Raleigh, NC, and New York, NY. For more information, please visit swinerton.com
Contact: Cathy Callegari – Cathy Callegari Public Relations, Inc. 917-968-7706 or [email protected]
Danielle Ridgeway – Swinerton Corporate Public Relations Manager 503-479-2030 or [email protected]
Media Contact
Company Name: CATHY CALLEGARI PUBLIC RELATIONS INC
Contact Person: Liz Ammirato
Email: Send Email
Phone: 914-299-3882
Address:159 Madison Avenue, Apt. 5J
City: New York
State: NY
Country: United States
Website: www.callprinc.com