Darryl Myers Launches New Children's Book, 'Lollipop Trailblazers,' Teaches Diversity and Acceptance to Children Worldwide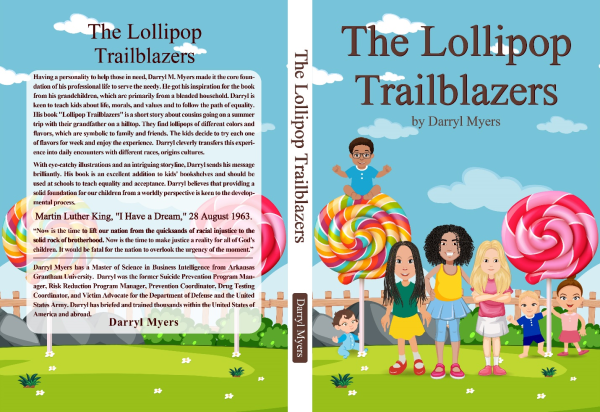 Some families frequently discuss race and the negative repercussions of racism. However, other parents may seldom or never bring up racism and discrimination when speaking with their children.
However, if parents remain silent, children may learn that racism is unimportant or someone else's problem. No matter who they are, everyone must actively participate in the effort to abolish racism.
Early discussion of race with children fosters an understanding of, respect for, and appreciation for individual differences. As a result, children become better equipped to recognize when something in their surroundings seems unfair or unjust and can take action to change it.
Born and raised in Washington, author Darryl M Myers wrote this exciting children's book that communicates diversity and acceptance of all genders, races, and origins. The retired US Army Senior Non-commissioned officer wants to teach his grandchildren and children around the globe to treat every child equally regardless of color, size, or origin.
Having a personality to help those in need, Darryl M Myers made it the core foundation of his professional life to serve the needy. He got his inspiration for the book from his grandchildren, primarily from a blended household.
Darryl M Myers is keen to teach kids about life, morals, and values and to follow the path of equality. His book "Lollipop Trailblazers" is a short story about cousins going on a summer trip with their grandfather on a hilltop. They find lollipops of different colors and flavors. The kids decide to try each one of them.
With eye-catchy illustrations and an intriguing storyline, Darryl sends his message brilliantly. His book is an excellent addition to kids' bookshelves and should be used at schools to teach equality and acceptance.
Media Contact
Company Name: AMZ Pro Hub
Contact Person: Darryl Maurice Myers
Email: Send Email
Country: United States
Website: https://darrylmmyers.com