Santa Monica Tennis Center Announces Grand Opening of New Pickleball Facility
The Santa Monica Pickleball Center Brings a State-of-the-Art Pickleball Experience to Southern California on December 4th.
Santa Monica, CA, USA – December 02, 2022 – One of the most recognized tennis operations in Southern California, The Santa Monica Tennis Center, has announced that they will have a grand opening to introduce The Santa Monica Pickleball Center, a proud addition to an already established legacy of racket sports in Los Angeles. The Grand Opening will be December 4th from 1pm-6pm at 2501 Wilshire Blvd in Santa Monica. Pickleball is considered the fastest growing sport in America with over five million players nationwide. Its popularity is attributed to a feeling of inclusiveness and teamwork while getting a great workout. The Santa Monica Pickleball Center will be the premiere location for the sport in Los Angeles County.
Over a quarter million dollars has been invested in the new facility, with the addition of four new lighted outdoor pickleball courts with top-of-the-line C&D nets and two thousand square feet of retail space which offers the largest and most-varied inventory of pickleball equipment in all of Los Angeles.
VISIT HERE: SANTAMONICAPICKLEBALLCENTER.COM


Julio Rivera (Director of Pickleball)
"We believe that this new center will bring in people from all over the country and potentially the world," says Julio Rivera, Director of Pickleball at the Santa Monica Tennis Center. "Organized leagues and tournaments will be offered in the next few months, and we encourage everyone to get involved no matter your skill level."
Because Pickleball is the fastest growing sport, celebrity participation is also on the rise. Enthusiasts include Leonardo DiCaprio, Will Ferrell, Stephen Colbert, Kelly Roland to name a few. Jamie Foxx produces his own line of pickleball paddles that is now sold at The Santa Monica Pickleball Center.
The new facility will kick off with a grand opening party on Sunday, December 4th from 1pm-6pm. There will be open play, demos, and a meet-and-greet with professionals and instructors. Food and drink will also be provided and there will be several pickleball prizes to be won by visitors. The center is open seven days a week from 8am until 9pm with extended hours during special events. For more information visit https://www.SantaMonicaPickleballCenter.com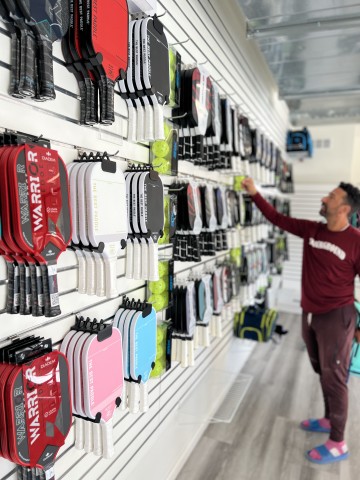 (Retail store at Santa Monica Pickleball Center)
ABOUT SANTA MONICA PICKLEBALL CENTER:
The Santa Monica Pickleball Center is a passion project of Jon Neeter and Julio Rivera, two seasoned professionals who have been involved in all aspects of the tennis and now pickleball community. Jon Neeter founded The Santa Monica Tennis Center in 2010 which has established itself as a leading sports and fitness facility in Southern California. Neeter, the owner of The Santa Monica Pickleball Center, is a former collegiate coach from Duke University and has been coaching tennis for more than twenty years. Julio Rivera has been a teaching tennis since 1990 and has become a beloved and well-known name in the tennis and now the pickleball community.
Rivera is an active member of the IPTPA (International Pickleball Teaching Professional Association), is a Level One Certified Pickleball Instructor, and has been a brand ambassador for Wilson, Babolat, and his latest ambassadorship, Vuori. Currently, Rivera is rated in the top 50 APP Senior Pickleball Pro. His coaching has been in high demand throughout Southern California for decades. Rivera, the Director of Pickleball at The Santa Monica Pickleball Center, is excited to announce he will now offer private lessons, clinics, camps, and workshops through the center.
MAIN WEBSITE: SANTAMONICATENNISCENTER.COM
Follow SMPC on all social media platforms:
* Facebook
Media Contact
Company Name: Nati Celebrity Services, Inc.
Contact Person: Domenick Nati, President
Email: Send Email
Phone: +1 (530) 346-3342
Address:2268 Waldon Street
City: Redding
State: CA 96001
Country: United States
Website: www.domenicknati.com