New book "The Gift" by David Williams is released, a poignant memoir about a miraculous childhood experience and the power of faith throughout a life of difficulty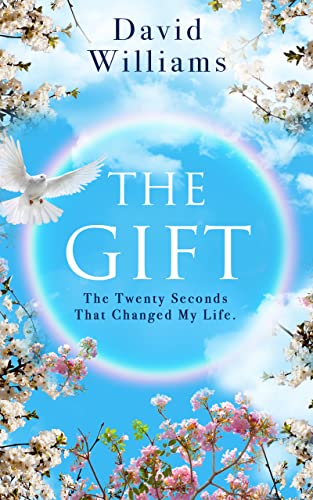 "The Gift" by David Williams has been released worldwide. This 82-page memoir recounts the author's life story, fraught with struggles, and the lasting impact of witnessing an apparition – a message from God – as a small child. Across family problems, dangerous environments, the AIDS epidemic of the 1980s and 90s, financial trouble, and beyond, a sense of purpose and divine protection remained, all stemming from a twenty second encounter with Jesus at just six years old. The author's story is both tragic and hopeful. It shines a light on the harsh realities of growing up as a gay man in the '60s and '70s, the enduring pain caused by bullying, and desperation of poverty. Inside of these struggles, however, readers will find compelling and powerful reminders of Jesus's love, and see how faith-driven perseverance can lead to a fulfilling, compassionate life.
Seeing his vivid, miraculous experience as a gift from God, Williams presents an inspiring message of courage. His journey is a powerful testament to the reality of Jesus and Heaven, and offers a path to personal growth through faith.
The Gift (ISBN: 9781958729090) can be purchased through retailers worldwide, including Barnes and Noble and Amazon. The paperback retails for $9.99. Wholesale orders are available through Ingram. Review copies and interviews are available upon request.
From the back cover:
This book is a collage of unfiltered mishaps and memories of my life and my struggle for survival. I needed an outlet to rid myself of the intense anxiety I had buried inside of me. Writing this book provided me the outlet I needed so dearly. I needed to tell my story. I witnessed something spectacular early in my childhood and that event has changed my life. I am so very lucky to have received The Gift. I invite you into my world for the next 82 pages. Some of the works can be disturbing, but this was necessary to witness the full effect and understand what I went through. Thank you.
Love & Peace to you,
David Williams
About the author:
My name is David Williams and I am the author of this story. Writing this book was a tough call, but I got it done. The Covid-19 Pandemic has taught me a few lessons. People need to step back and take a close look at what they have and not what they want. People need to take that extra step to really get to know their friends and people they thought were their friends. After getting fired, I had too much time on my hands. Like everyone else, I started to drink more cocktails than I should have. I stopped doing that and got a great new job and got really busy. I am doing excellent. My head is clear and my body feels good. But the lesson for this and a lot of goals is "One Day At A Time".
Believe me, it works. Many thanks for reading my book. Stay safe and God Bless You.
Much love,
David Williams
About MindStir Media:
MindStir Media LLC is an award-winning book publisher. To learn more about publishing a book with MindStir Media, visit http://mindstirmedia.com or call 800-767-0531.
Media Contact
Company Name: MindStir Media LLC
Contact Person: Jen McNabney
Email: Send Email
Phone: 800-767-0531
Address:1 New Hampshire Ave Suite 125
City: Portsmouth
State: NH
Country: United States
Website: https://mindstirmedia.com/