Gurudev presented with "The Emissary of Peace" award by the National Civil Rights Museum in Memphis, TN
Spiritual leader and humanitarian Gurudev Sri Sri Ravi Shankar was awarded the prestigious "The Emissary of Peace" Award during his global "I Stand for Peace" campaign, which arrived in the Mid-South Monday.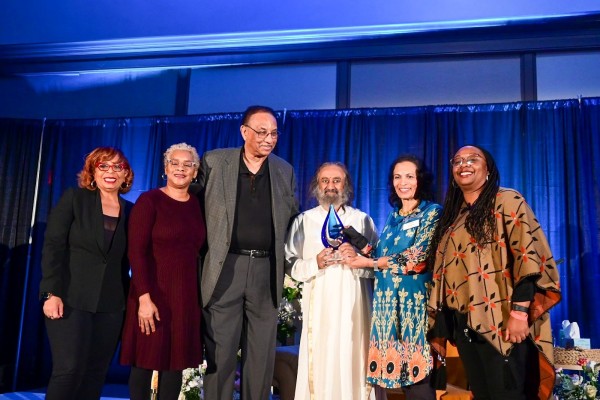 Memphis, TN – Spiritual leader and humanitarian Gurudev Sri Sri Ravi Shankar visited Memphis, TN as part of his international peace campaign, "I Stand for Peace." During the visit, Gurudev was honored by the National Civil Rights Museum (NCRM) — a pivotal landmark in the history of non-violence and social transformation in the US.
"On behalf of the National Civil Rights Museum, it is our greatest pleasure and privilege to present to Gurudev Sri Sri Ravi Shankar "The Emissary of Peace" award. As a global humanitarian, a peace ambassador, the founder of SKY programs and Healing breaths, you have touched millions of people in 180 countries…and for your conflict resolution initiatives we are honored to present to you this special award," said Shaila Karkera, Director of Board, the National Civil Rights Museum. She was joined by Herb Hilliard, Chairman of the board of NCRM.
Gurudev's "I Stand For Peace" event in Memphis, TN was attended by over a thousand Memphians who affirmed their commitment to inner and outer peace. Gurudev also met with local officials, including members of city council, the department of education, and the department of justice to discuss ways to reduce violence, especially among youth.
"Let us come together to spread the message of global peace," Gurudev said. "Conflicts and wars not only destroy our environment but also harm the physical and mental health of the individual. World peace is impossible without individual peace. We must achieve inner peace if we hope to achieve outer peace." Gurudev added.
Earlier in the month, The Gandhi Foundation at the Martin Luther King, Jr. Center for Nonviolent Social Change, honored Gurudev with the Gandhi Peace Pilgrim award to recognize his commitment to the development of peace, non-violence, and oneness among humanity in the world.
About Gurudev
Gurudev Sri Sri Ravi Shankar is a global humanitarian, spiritual leader, and peace envoy. He is the founder of the Art of Living foundation, through which he has touched the lives of over 500+ million individuals in over 180 countries to find peace and resilience in the face of adversity, learning not only how to excel in their own lives, but also how to become powerful agents for social change. Gurudev has created trauma-relief and meditation programs for at-risk youth, war veterans, prisoners and survivors of disaster. He has also created numerous educational and self-development programs and tools that facilitate the elimination of stress and foster deep and profound inner peace, happiness and well-being for individuals.
As a contemporary ambassador of non-violence, Gurudev's intervention brought about a cease-fire in the Colombian Conflict, which had claimed over 200,000 civilian lives; helped end a generations-old sectarian conflict in India; and most recently has helped bring gang members and law enforcement together in inner cities in the US. He has also mediated and progressed negotiations for peace in conflict-stricken areas such as Sri Lanka, Iraq, and Venezuela.
Gurudev has received 39 governmental awards, including highest civilian awards from several nations. 24 universities have awarded him with honorary doctorates for his peace-keeping and humanitarian efforts.
For more information on Gurudev visit www.srisri.org
Media Contact
Company Name: The Art of Living Foundation
Contact Person: Kushal M. Choksi
Email: Send Email
Phone: +1.917.836.2819
Address:2401 15th St. NW
City: Washington, DC 20009
Country: United States
Website: https://www.artofliving.org/