EnSuite-Cloud ReVue Introduces "Spotlight" Tool

Latest enhancement allows for richer and more focused collaboration sessions.
Farmington Hills, MI, USA – August 3, 2022 – CCE, a leading provider of advanced CAD interoperability solutions, announced a new "Spotlight" tool as part of the latest enhancement of its flagship engineering collaboration software, EnSuite-Cloud ReVue.
Users can now use the "Spotlight" tool to draw attention to specific parts of the CAD model for discussion. This allows for a richer collaboration experience where all participants know the exact context of the discussion. This is especially useful for discussions of large and complex CAD data models and eliminates miscommunication.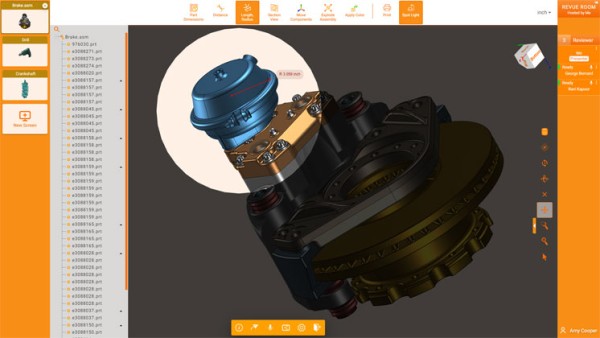 "The latest enhancement was a direct result of listening to the customer. We had customers dealing with large data sets who clearly believed that the ability to hone in on particular parts of the model would make collaboration sessions more productive. It would eliminate any miscommunication during engineering design reviews. The introduction of the Spotlight tool should make them very happy," said Vinay Wagle, CCE's V.P. of Sales and Marketing.
EnSuite-Cloud ReVue is a revolutionary web-based real-time engineering design review software, with built-in audio, that allows users to securely review CAD data across the Product Development Lifecycle. Whenever there is a need to review 2D/3D CAD data in the product development process, ReVue provides a secure platform for collaboration with your team or suppliers. Users can review 2D/3D designs of all the latest CAD versions from CATIA V5, 3DXML, NX, Creo, SOLIDWORKS, Inventor, Solid Edge, JT, Parasolid and glTF among others.
Last month, CCE introduced an Experience Center to provide new users 1-click access to EnSuite-ReVue and explore the power of the software without creating an account. This 1-click access to the Experience Center gives users a sandbox to experience the product, review multiple sample files from different CAD formats and then seamlessly transition to creating an account whenever they are ready.
Key benefits of using EnSuite-Cloud ReVue for secure online meetings for engineering design reviews include:
* Independent Local control of review session without compromising intellectual property
* High-quality 3D rendering with zero loss of fidelity of viewable data
* Natural collaboration experience without any overhead for data or session preparation
* Ultra-low latency allowing for excellent response/refresh rates
* Low bandwidth usage allowing for easy sharing of large CAD models
* Screen-sharing option for non-CAD documents for richer review sessions
Users can visit the EnSuite-Cloud ReVue page for additional product and pricing information.
About CCE:
Incorporated in Michigan, CCE has more than 30 years of CAD/CAM/CAE software development experience, as well as an extensive background in related services. Since 1989, CCE's focus on CAD technology & application development has spearheaded its mission to deliver customers value through innovative, disciplined, and communications-focused technology products and services. CCE has offices located in Farmington Hills, Michigan and Fort Lee, New Jersey.
For more information on CCE's products and services, visit www.cadcam-e.com.
Connect with CCE on:
* Twitter – https://twitter.com/cadcame
* Facebook – https://www.facebook.com/cadcame
Media Contact
Company Name: CCE
Contact Person: Debankan Chattopadhyay
Email: Send Email
Phone: +1 (248) 932-5295
Address:31700 W. Thirteen Mile Road, Suite 115
City: Farmington Hills
State: MI 48334
Country: United States
Website: www.cadcam-e.com