DEI Insights From The Inaugural Study Of Small And Medium Organizations In The US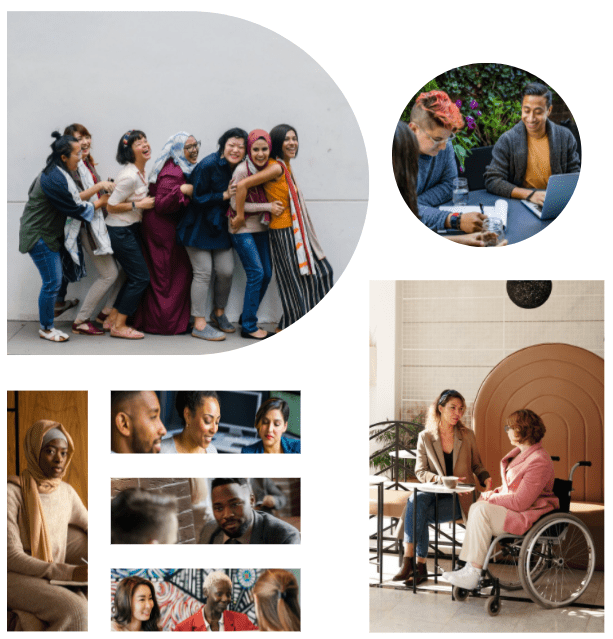 OurOffice released key insights on the state of Diversity, Equity and Inclusion (DEI) from the first ever focused survey of small and medium organizations in the United States.
Santa Monica, CA – August 2, 2022 – "Today it's more difficult than ever for CEOs and HR leaders at small and medium organizations to compete for talent, customers and investment dollars." said Sonya Sepahban, OurOffice CEO. Over half of the US workforce is actively planning to leave their jobs, and 80% of them prioritize inclusion and belonging in their search for a new employer. Moreover, inclusive organizations are six (6) times more likely to be innovative and three (3) times more likely to retain talent.
While the positive impacts of DEI initiatives are widely reported, most of the publicly available research and data are based on studies of larger organizations with expertise and dedicated resources. "We believe that an understanding of the state of DEI among their peer group will help Boards, C-suite leaders, HR professionals, DEI champions, allies and other key stakeholders in small and medium organizations identify their key gaps and opportunities, plan and manage their DEI efforts, and achieve better results," said Dr. Tiffany Ingram, Senior DEI Advisor at OurOffice, Inc.
These findings are based on the responses received in Q1 2022 to the OurOffice DEI Maturity Model Assessment. The survey has over 70 questions on DEI processes, policies, benefits and infrastructure capabilities, and was sent exclusively to organizations with less than 2,500 employees which represent over 99% of all employers in the United States.
An organization's overall DEI rating is expressed as a percentage calculated based on their survey responses. The percentages indicate one of four stages of DEI maturity: "Aware" for scores up to and including 25%, "Focused" for 26%-50%, "Progressive" for 51%-75% and "World-class" for scores over 75%. Similarly, the key sub-elements of the overall DEI rating are expressed in percentages as well. Further information on the research methodology is provided below.
As more survey responses are received, the expanded and updated set of findings will be shared in a comprehensive "2022 State of DEI in Small and Medium Organizations Report," which will thereafter be updated periodically.
Key Insights on Diversity
Small and medium organizations' average DEI score is 35%, indicating that they have already been "Aware" of the benefits of DEI and are now "Focused" on efforts to set goals, make improvements and start seeing benefits. Interestingly, when asked to rate themselves, only half of these organizations estimated their overall DEI rating accurately, with an equal number over- and under-estimating it. The overall DEI ratings are further defined in the Methodology described below.

Organizational Engagement and Communication ranked lowest (26% score) and Talent Diversity ranked highest (46% score) among the four (4) key elements of DEI, which also include DEI Strategy and Workplace Inclusivity.

While 91% of CEOs have advocated for DEI internally, fewer of them (82%) have communicated specific DEI goals with employees, and only 64% have a documented DEI strategy.

Only 51% of the organizations have an allocated DEI budget, 34% have a Chief Diversity Officer or equivalent responsible for DEI, and even fewer of them (38%) task and measure progress of executives and managers towards DEI goals.

About 81% of organizations are using DEI focused talent sources, but only 37% require a diverse candidate slate.
Profile of the Respondents
About 200 organizations with less than 2,500 employees participated in this study during Q1 2022. The survey is still open and more responses are coming in, which will be shared later in the year.
Respondents represented a wide range of about two dozen industries, including traditional ones like finance, food and beverage, healthcare, insurance, and manufacturing, as well as the Tech industry, nonprofits, government entities and higher education.
Organizational sizes ranged from under 100 employees (27%), to 100-500 employees (47%), and over 500 to 2,500 employees (26%).
Methodology
The DEI survey is based on the OurOffice Maturity Model(TM) framework to assess the readiness of an organization for DEI based on their infrastructure capabilities, programs, processes, policies and benefits. The assessment provides scores resulting from responses to about 80 questions which are aggregated based on a fully validated algorithm in the four (4) categories below:
DEI Strategy and Commitment

Talent Diversity

Workplace Inclusivity

Engagement and Communication
The results provide an overall DEI rating of Aware, Focused, Progressive or World-class, as defined below:
Aware: The organization​ is Aware of the benefits of DEI and is ready to focus on efforts to make improvements.
Focused: The organization​ has already been Aware of the benefits of DEI and is now Focused on efforts to set goals, make improvements and start seeing benefits.
Progressive: The ​organization has been Focused on DEI and workplace culture for some time, and is most likely reaping significant benefits in terms of business outcomes and employee experience.
World-class: The organization​ ​has advanced beyond their internal diversity efforts and is already contributing, or about to contribute, to DEI insights across their industry and beyond with thought leadership and the development of novel approaches.
Best-in-class industry benchmarks for the overall ratings and scores are also available and updated regularly. OurOffice monitors the DEI landscape based on publicly available data, recognitions and awards, direct outreach to organizations, as well as anonymously-aggregated data on the OurOffice platform. The benchmark organizations also have the opportunity to update their data as they make progress.
To subscribe to future reports on the State of DEI in Small and Medium Organizations, please email [email protected]
To find out your organization's overall DEI rating and four key scores, please click on this link: https://forms.gle/BGu9LbvtnVyFnM7y9.
About OurOffice
OurOffice provides a flexible and affordable SaaS solution for small and medium organizations who want both leaders and employees to drive an inclusive workplace experience and all individual team members to belong and be productive.
Media Contact
Company Name: OurOffice
Contact Person: Sonya Sepahban
Email: Send Email
City: Santa Monica
State: CA
Country: United States
Website: https://www.ouroffice.io/