Shaping the Future of Infrastructure Arena by delivering State-of-the-art Solutions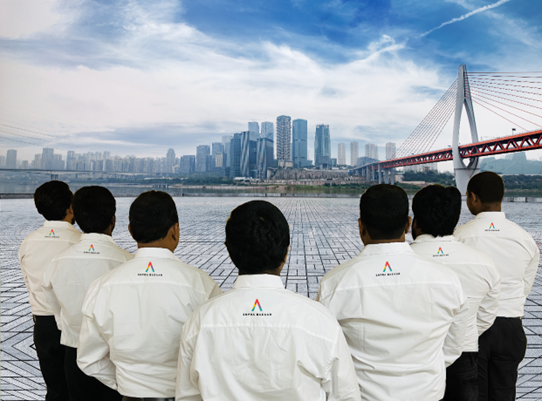 Infra Bazaar Tech Pvt Ltd, a startup entity operating in the infrastructure domain with a drive to build Infra Ecosystem on a One-Stop-Digital Platform has recently attracted maiden initial investment. Further, we are happy to share that more rounds of investments are expected from fresh investors who are keenly interested to augment our activities towards a "cashless, faceless, unorganized to organized" vision for the industry.
Infra Bazaar is a first of its kind infrastructure marketplace and ecosystem. We are committed towards making real and lasting solutions for the infrastructure industry that can disrupt and benchmark equipment purchase, sale, rental and disposal; ethical material sourcing via online medium.
The Infra sector is witnessing continuous innovations, technological developments and is in need of faster and cost-effective solutions. It's the aim of Infra Bazaar to provide a perfect match to meet these needs and to give a competitive advantage by transparency across the board.
Our vision is to build a comprehensive platform that empowers Infra stakeholders to improve cost and efficiency.
Infra Bazaar is a transparent e-commerce marketplace for infrastructure. We are here to bridge the gaps in the infrastructure domain by showcasing all infra channels through an online portal. Cluster pricing and negotiations, doorstep delivery and financial services are some of our USPs.
With our tech enabled, well integrated and robust processes in place, we are catering to the needs of infra stakeholders across all geographies in a transparent manner. Our repeat customers stand testimony to our activities and encourage us to work towards total digital innovation of:
Disposal of Used Equipment.
Online Auctions & Reverse Auctions for Used Equipment/Materials.
Equipment Rentals & Valuations.
Disposal/Sourcing of Environmentally friendly materials that are in line with the SDGs, ESG standards and carbon sensitive.
Platform & SaaS with backend support.
Equipment/Material Finance.
We continue to strive towards innovation and better price discovery in the most cost effective and efficient way. All this with the hope that this sector which is the biggest contributor to India's GDP and estimated to be around 15% within the next decade; is growing in a sustainable manner and enabled by technology to give every recipient in need of infra materials/ technology or equipment a transparent platform to understand their choices and facilitate more thorough decision making for a better future.
"Our main goal is to be industry thought provokers by providing a seamless transition for this industry that has thus far grown without much planned strategy. We aim to do this by providing as much data and directory information on the web. It is our endeavor to help the sector have proper channels of reaching ethical solutions for their problems. Be it: environmentally sustainable materials and equipment sourcing or ethical disposal and/or refurbishment of equipment." – As quoted by our founder, Abhijeet Pai.
In all, our vision of being 'cashless, faceless and unorganized to organized" is a tech enabled vision driven by the purpose of moving the already growing industry in a trajectory that provides sustainable solutions for our future.
ABOUT US:
Infra Bazaar is an Online Ecosystem for any Infrastructure related services, provides a variety of services for both construction equipment owners and institutions providing goods & services within.
Our regular interaction with insurance, financial and leasing institutions, small & corporate construction companies, solidifies our understanding of the industry as a whole making us a valuable partner every time an asset is to be bought/sold or a valuation needed.
Infra Bazaar team has experience of providing a unique Database of contacts and knowledge of individual machine values in different markets.
Media Contact
Company Name: INFRA BAZAAR TECH PVT LTD
Contact Person: Media Relations
Email: Send Email
Phone: +91 40 66101 777 / 888
Address:Puzzolana Towers, IInd Floor, Road No 10, Banjara Hills
City: Hyderabad
State: Telangana
Country: India
Website: https://www.infrabazaar.com/