Korean Stacko-Pot, stackable, changeable, and multi-functional type vertical plant farm using interior walls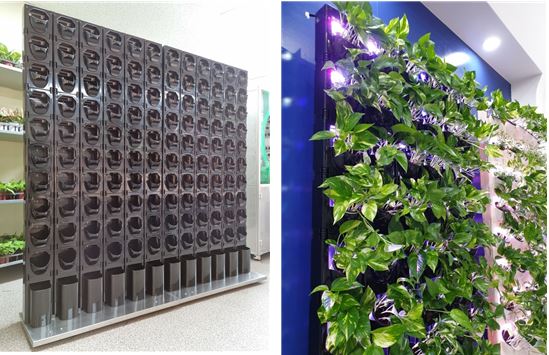 GEETEC, a company specializing in indoor farming equipment, draws attention at home and overseas with the development of air purifiers using plants and indoor and outdoor multi-functional plant growing systems such as indoor functional vegetable farming devices.
Ten years from 2013, plant growing devices are expected to be spread as the new home appliances. In its response, GEETEC started the development of small and medium-sized indoor plant growing devices with a goal of developing products that eliminate the hassle of indoor growing and managing and increase the continuous growth of plants, rapid germination of vegetables, and the success rate of cultivation. As a result, after being established as a company specializing in plant growing devices in 2017, GEETEC completed the development of a stackable, changeable, and multi-functional type of vertical plant farm.
Currently, GEETEC owns 4 patents and 2 design patents related to plant growing devices.
Its main product Stacko-Pot is stackable, changeable, and multi-functional type vertical plant farm, interconnecting each cultivation module by using 4 types of 'pipe-type connecting joints' that GEETEC developed. Instead of arranging simply on a flat surface, Stacko-Pot allows you to arrange plants in 3 dimensions on the interior walls in a circle pattern, a round pattern, or other patterns. Also, it can stand by itself without damaging the walls. The modules are connected before installing them to the desired place, which allows them to be moved to other places for a change of interior design according to the season.
'Stacko-Pot' can water the plants automatically, and the LED(light-emitting diode) module installed inside the product supports the growth of plants, allowing the user to grow salad vegetables and green herbs.
It has the advantage of growing or changing plants easily by simply putting the pot-type purification plants, which can be easily bought at a cheap price, inside the 'Join-Pot.'
Its major domestic stores are currently corporate flower gardens and landscaping, companies for plant rental, public organizations, etc. And it delivers the products to cafes, flower shops, interior constructors, etc. Buyers from Europe, Asia, and various countries show great interest in its products, and it is discussing the supply of the products.
The official from GEETEC said, "GEETEC will leap as a leading company developing expertise in one and only plant growing system as a home appliance in Korea. We will achieve our goal to make it possible for domestic and overseas households to grow vegetables conveniently and produce plenty of organic vegetables at a low price."
Media Contact
Company Name: GEETEC
Contact Person: Park Yoseong
Email: Send Email
Phone: +82 63-276-7668
Country: South Korea
Website: http://www.kreport.co.kr/ctcssr_b10g.do?iKEDCD=0002343100