ASCO Power Technologies Streamlines Transfer Switch Management with QR Code Technology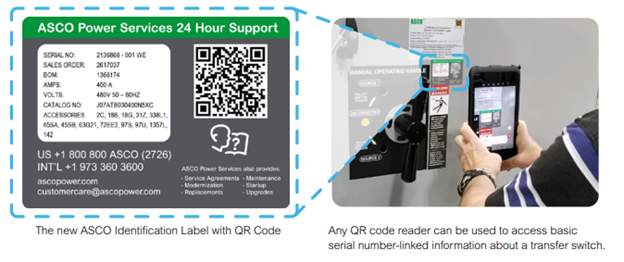 • ASCO Transfer Switches now feature QR Codes
• QR Codes enable authorized users to access transfer switch-specific documents using mobile devices
• QR Codes enhance user experience across the entire ASCO Transfer Switch Portfolio
Florham Park, N.J., U.S.A. – ASCO Power Technologies, the world's leading provider of critical power solutions, announces its application of Quick Response (QR) Codes to all models in its Transfer Switch Portfolio. This new feature provides users with direct digital access to serial number-linked documents using any smartphone or tablet that can scan QR codes.
The new QR Codes are on the new ASCO Identification Label applied to each transfer switch. The label presents:
a list of the transfer switch's accessories
a QR code linked to the device's serial number
an overview of related service offers
Scanning this code with an internet-connected cell phone or tablet opens device-specific records. There are two ways to do so:
1. Scan it with any standard QR code reader to access:
Product Brochures
Manuals for the transfer switch and its controls and accessories
Unit-specific outline and mounting drawings
Unit-specific wiring diagrams
2. Scan it using Schneider Electric's Facility Expert application to access the above-referenced documents, PLUS:
Factory Test Reports
Certificates of Compliance
Seismic Certificates
Asset management capabilities
The new Service Label with QR Code opens a wide range of digital assets that streamline transfer switch operation, maintenance, and ownership for facility managers, power technicians, and end-users.
To learn more, view the ASCO QR Code Data Sheet, call (800) 800 ASCO (2726), or contact ASCO Customer Care.
About ASCO Power Technologies
ASCO Power Technologies has provided power reliability solutions for more than 125 years. The firm designs, manufactures, services, and supports automatic transfer switches, power control equipment, load banks, and critical power management systems. ASCO products serve mission-critical functions in data centers, healthcare facilities, telecommunication networks, commercial buildings, and industrial operations.
To learn more about any of ASCO's premium products and services, call (800) 800 ASCO (2726), email [email protected], or visit www.ascopower.com
Media Contact
Company Name: ASCO Power Technologies
Contact Person: Bhavesh Patel
Email: Send Email
Phone: +1 973 966 2746
Address:160 Park Avenue
City: Florham Park
State: New Jersey
Country: United States
Website: https://www.ascopower.com/us/en/