Edge Of Tomorrow By Atom Orr/Unforgettable Intensity And Expression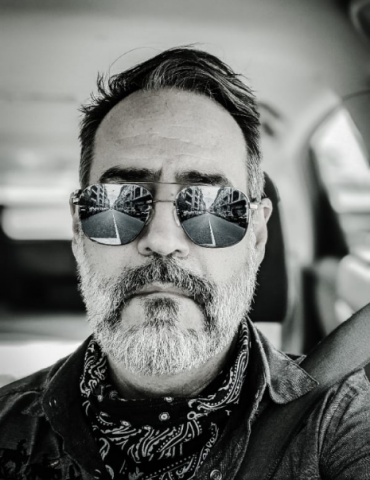 Meet Atom Orr:
Atom Orr is the musical project of San Diego based singer-songwriter, multi-instrumentalist, producer and sound engineer, Christopher Hoffee.
Hoffee has been a music enthusiast since his finger first ran across the strings of his uncle's guitar when he was five years old. This introduction formed an unbreakable bond and sparked an intense passion that has continuously developed.
Over the years, Hoffee played in and formed three bands that gained some major attention. However, one by one they fell by the wayside due to differences of opinion.
A solo project was inevitable for Hoffee, and in 2003 Atom Orr came into the spotlight with an exciting indie-pop repertoire for his listeners. His latest release, "Edge of Tomorrow", is the first song from his album Edge of Tomorrow, and was inspired by the effects of loss, heartbreak and desperation, he and others experienced throughout the pandemic.
Edge of Tomorrow:
The opening to "Edge of Tomorrow" sparks intrigue as a powerful and thick textured soundscape, incorporating medieval sounding instruments, encompasses us. This introduction conveys the beginning of an exciting tale that creates an atmosphere of mystery and adventure.
There is an immense amount of sadness and grief expressed throughout this song, and feelings of loss and heartbreak arise. However, the overall feeling is a hopeful one. The belief in brighter days.
Hoffee delivers a captivating performance through emotive tones and passionate expression. He communicates a feeling of strength and resilience, which is addictively inspiring and will give many people hope.
"Edge of Tomorrow" expresses an unforgettable intensity that imparts a lasting impression on the listener. If you enjoy music from artists such as Beck and Lord Huron then Atom Orr will fit perfectly on your indie-pop playlist:
https://open.spotify.com/track/6zVttZF4PbiA9QdxrV2bUW
What's next for Atom Orr?
After releasing three albums in 13 months, Atom Orr is now focused on sharing his music. He is excited to get back out on the road again and begin live performances. Be sure to follow him on social media to keep up to date with his gigs and future releases.
In the meantime, he has a message for all his listeners: "Creating something out of nothing has been my life's focus. I would say, that it is important for all of us to "create the world we want to see." Think and imagine the world we want to have. Having this vision can bring us closer to making it real."
"Follow this link to listen to "Edge of Tomorrow" on Spotify: https://open.spotify.com/track/6zVttZF4PbiA9QdxrV2bUW?
Follow and support this artist here:
http://www.instagram.com/atomorr
http://www.facebook.com/AtomOrr
Media Contact
Company Name: Music Blog PR
Contact Person: Ginger Ray
Email: Send Email
Country: United States
Website: https://musicblogpr.com/