Napoleon Hill's Principles of Success from Think and Grow Rich Come Alive in this Never-Done-Before Book Series The 13 Steps to Riches with 33+ Authors, Including 13 Celebrity Authors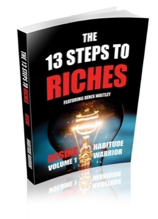 International #1 best-selling author and keynote speaker Erik "Mr. Awesome" Swanson brings together 13 celebrity Habitude Warrior authors in new collaborative book detailing journeys to success.
In this first-ever collaborative book project on Napoleon Hill's steps to riches, 10 Time #1 best-selling author Erik Swanson brings together 33+ authors from around the world, along with 13 personal development gurus, to expand on the lessons of success in The 13 Steps to Riches. Volume 1: DESIRE featuring Denis Waitley.
Each volume has a featured celebrity author and a chapter from a hand-selected group of global authors, speakers, and experts who have been touched by the classic work of Napoleon Hill's Think and Grow Rich. The first book in this series, The 13 Steps to Riches – Habitude Warrior – Volume 1: DESIRE, brings together entrepreneurs, business owners, coaches, consultants, Olympians, and celebrity author Denis Waitley, a motivational speaker and the best-selling author of such books as Seeds of Greatness, The Winner's Edge, and The NEW Psychology of Winning.
Denis Waitley, Erik Swanson, and the 33+ contributing authors (Jon Kovach Jr., Adora Evans, Amado Hernandez, Angelika Ullsperger, Dr. Anthony Criniti IV, Barry Bevier, Brian Schulman, Bryce McKinley, Candace and David Rose, Collier Landry, Corey Poirier, David Nicholson, Deb Scott, Dori Ray, Elaine Sugimura, Elizabeth Anne Walker, Erin Ley, Fatima Hurd, Frankie Fegurgur, Freeman Witherspoon, Gina and Jay Bacalski, Griselda Beck, Jason Curtis, Jeffrey Levine, Lacey and Adam Platt, Louisa Jovanovich, Maris Segal and Ken Ashby, Mel Mason, Dr. Miatta Hampton, Michael D. Butler, Michelle Cameron Coulter and Allan Coulter, Michelle Mras, Mickey Stewart, Natalie Susi, Nita Patel, Olga Geidane, Paul Capozio, Paul Andrés, Robyn Scott, Shannon Whittington, Soraiya Vasanji, Teresa Cundiff, Vera Thomas, and Yuri Choi) all share their stories, triumphs, and journeys of DESIRE that helps readers achieve powerful results in their lives. They also share step-by-step principles in how harnessing a burning desire can play in helping readers to achieve their goals and unlock their fullest potential to live the life of their dreams.
"This is a 'one-stop-shop to success' with such high esteemed leaders from around the planet to mastermind and share the most important principles of our lives," claimed Erik "Mr. Awesome" Swanson, CEO/Founder Habitude Warrior International and Global Speakers Mastermind.
In Think and Grow Rich, readers learned that having a burning desire is Hill's first principle for success. Napoleon Hill wrote his book Think and Grow Rich over 75 years ago (1937), and his principles are still as valid today as they were back then.
Hill wrote, "There is one quality which one must possess to win, and that is definiteness of purpose, the knowledge of what one wants and a burning desire to possess it."
"We're launching a new book every two months in this 13 volume book series, detailing each of the 13 steps to riches with the same 33+ authors sharing each of their insights and lessons about the Think and Grow Rich principles," Swanson said.
"Each volume will be published as a hardcover, paperback, eBook, and an audiobook version," said Michael D. Butler, of Beyond Publishing in Dallas, Texas. "We're proud to partner with Erik 'Mr. Awesome' Swanson to bring this valuable series to the world in a never-before-seen way."
Our featured celebrity authors include brilliant minds such as Denis Waitley, Sharon Lechter, Jim Cathcart, Steve Sims, Glenn Lundy, Marie Diamond, Dan Clark, Alec Stern, Erik Swanson, Greg Reid, Loral Langemeier, Doria Cordova, John Assaraf, Kevin Harrington, and foreword and introduction by Sharon Lecter and Don Green.
"Just as Think and Grow Rich reveals the 13 steps to success discovered by Napoleon Hill after interviewing the richest people around the world (and many who considered themselves failures) in the early 1900s, The 13 Steps to Riches, produced by Habitude Warrior and Erik Swanson, takes a modern look at those same 13 steps. It brings together many of today's personal development leaders to share their stories of how the 13 Steps to Riches have created and propelled their own successes. I am honored to participate and share the power of faith in my life. If you truly want to accelerate reaching the success you deserve, read every volume of The 13 Steps to Riches," said Sharon Lechter, five-time N.Y. Times best-selling author. Author of Think and Grow Rich for Women, co-author of Exit Rich, Rich Dad Poor Dad, Three Feet from Gold, Outwitting the Devil, and Success and Something Greater.
"When you begin your journey, you will quickly learn of the importance of the first step of The 13 Steps To Riches. A burning desire is the start of all worthwhile achievements. Erik 'Mr. Awesome' Swanson's newest book series contains a wealth of assistance to make your journey both successful and enjoyable. Start today… because tomorrow is not guaranteed on your calendar," said Don Green, Executive Director of The Napoleon Hill Foundation, Best-Selling Author of Everything I know About Success I Learned from Napoleon Hill.
The 13 Steps to Riches – Habitude Warrior – Volume 1: DESIRE featuring Denis Waitley is currently available on Amazon and all other booksellers across the planet.
For more information please visit: www.The13StepsToRiches.com
About Erik Swanson:
Erik Swanson is a 10-time #1 best-selling author. He speaks to an average of more than one million people per year and is honored to have spoken to the business and entrepreneurial school of Harvard University. Nicknamed "Mr. Awesome" by notable legends Brian Tracy and Les Brown, Swanson joined the Ted Talk family and Amazon Prime TV with his keynote speech "A Dose of Awesome". Swanson is the CEO and founder of Habitude Warrior International, Habitude Warrior Masterminds, and Global Speakers Masterminds. His motto is clear… "NDSO!": No Drama – Serve Others!
About Habitude Warrior:
Habitude Warrior is a collective group and community of world-class speakers, authors, mentors, and coaches who gather in conferences, masterminds, summits, live events, and virtual events around the globe. Habitude Warrior hosts unique events conceived by 10-time #1 best-selling author and international speaker Erik Swanson, which blends personal development and professional growth to enhance both the skillset and mindset of attendees, preparing them to excel in their chosen fields. Habitude Warrior overachieves this standard of excellence by honoring and working with world-class speakers, authors, and thought leaders who bring inspiration, motivation, and cutting-edge ideas, along with opportunities to network with other success-minded professionals.
Media Contact
Company Name: Beyond Publishing
Contact Person: Michael Butler
Email: Send Email
Phone: 918.955.3227
Country: United States
Website: www.beyondpublishing.net