Kelly Le Brock, Burt Young and Cast Shine in Reverent Comedy Feature Film Sweeping Festival Awards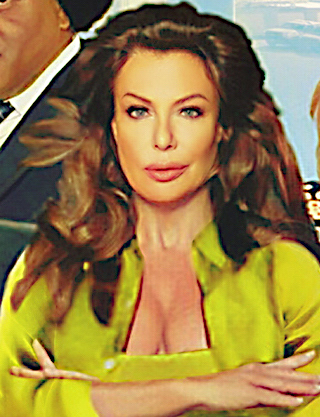 "Kelly Le Brock as Donna and Burt Young as Luca fill pivotal roles in "Tomorrow's Today". Their performances are excellent and set the bar for the film's ensemble," states producer Susan Goforth.
"Tomorrow's Today" premiered at the IDOC Film Festival in Los Angeles April 5th. Currently "Tomorrow's Today" is the winner of the Los Angeles Cinematography Award fBest Editor, Winner Best Producer and Winner Best Song, the Winner of Best Song and Best Producer at the New York Cinematography Awards (NYCA), Best Ensemble and Official Selection in the Spring Grove/Caledonia Film Festival, Lit Laughs International Comedy Film Festival, and the Marina del Rey Film Festival and more.
ABOVE: Charlie Borakos (Greg Kritikos) speaks with neighborhood sage Luca (Burt Young) in the feature film comedy "Tomorrow's Today".
"Tomorrow's Today" showcases some of New York's funniest comics including headliner Teddy Smith, Joanne Scorcia, Adam Gabel and Greg Kritikos," adds Executive Producer Dominick Martini.
Starring Joanne Scorcia, along with Dave Morrissey Jr. Annunziato Carbone, set to make you laugh and cry in "Tomorrow's Today" are standup comics Teddy Smith, Nicky Sunshine, Adam Gabel, Robert Bella, Janice Messitte, and magician Dave Cremin, as well as an excellent comedic cast of actors including Heather Cole, Dave Morrissey Jr., Annunziato Carbone, Colin Buckingham, Domenico Del Giacco, Mamiko Nakatsugawa, Matt Silver, Erzen Krivca, Pascal Yen-Pfister, Peter Plano, Giovanni Celentano, George N. Mikedis and Saskia Larsen.
ABOVE: "Tomorrow's Today" is being brought to life by movie director Timothy Hines, seen here aligning a shot in this new comedy which features the premise that some bad guys become good guys.
Director Timothy Hines (War of the Worlds The True Story, 10 Days In A Madhouse – The Nellie Bly Story starring Caroline Barry and Christopher Lambert) helms the production which incorporates Astoria, Queens as the story's backbone.
Original supermodel Kelly Le Brock has returned to the big screen with an emotionally stirring heartfelt special appearance in Timothy Hines' new film, "Tomorrow's Today".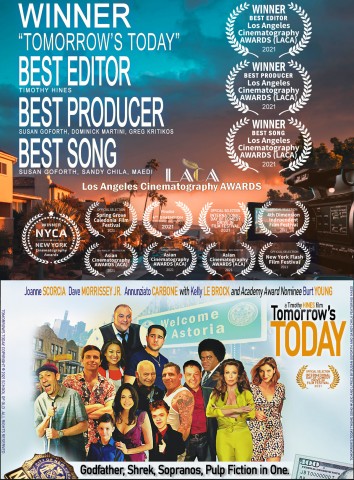 Kelly Le Brock, whom the phrase "Supermodel" was coined for, was born in New York and raised in London. She is the daughter of a French-Canadian father and an Irish mother. Kelly Le Brock began her career as a model beginning at the age of sixteen. She has appeared on hundreds of covers and magazines including with Christian Dior. She became one of Eileen Ford's most sought-after models. Her motion picture debut was in the Oscar-winning comedy movie "The Woman in Red" (1984) opposite Gene Wilder. She has appeared in many films including the iconic comedy "Weird Science" (1985) with Robert Downey Jr., "Hard to Kill" (1990), "Wrongfully Accused" (1998) and "The Sorcerer's Apprentice" (2001).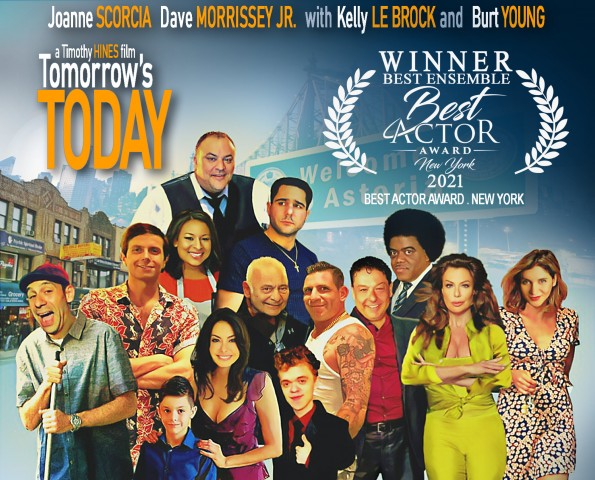 Ms. Le Brock was formerly married to actor Steven Seagal, with whom she has three children, Annaliza, Dominic and Arissa. She rarely returns to the screen and when she does it is a choice selection of role. Ms. Le Brock is a human rights activist who spends much of her time on her ranch in Southern California. She is an amazing woman/actress/model/mother, beloved by the world.
Legendary Academy Award nominee actor Burt Young (Paulie in Sylvester Stallone's "Rocky"), delivers a powerful special appearance in Timothy Hines' new comedy feature film, "Tomorrow's Today". In Hines' film Young plays Luca, the village sage who has his own painful past.
Young first gathered notice playing tough thugs in such films as "The Gang That Couldn't Shoot Straight" (1971), "Across 110th Street" (1972), "Chinatown" (1974) and "The Gambler" (1974). Fiery director Sam Peckinpah cast Young as the getaway driver / assassin Mac in "The Killer Elite" (1975), and Young came to the attention of then newcomer Sylvester Stallone, who cast him as future brother-in-law 'Paulie' in the 1976 Academy Award winning classic "Rocky" (1976).
The talented Young was nominated for an Oscar, and has gone on to reprise the role in all five "Rocky" sequels to date. Peckinpah re-hired him to play renegade trucker Pigpen in "Convoy" (1978) in which the director homaged Young by having his character's truck door read "Paulie Hauling".
Young has also appeared in numerous other major productions, including "Once Upon a Time in America" (1984), "The Pope of Greenwich Village" (1984), "Last Exit to Brooklyn" (1989) and "Mickey Blue Eyes" (1999).
"Tomorrow's Today" is a comedic recovery story about Charlie Boy, a hopeless grifter trying to reform his ways.
"We filmed "Tomorrow's Today" to be for Astoria what ROCKY was for Philly, only this is a laugh-out-loud comedy. This movie will make you laugh and laugh, all while weaving a deep tapestry of emotion, turmoil and redemption," says producer Susan Goforth, ""Tomorrow's Today" turns grief into laughter. And, during filming everyone involved acknowledged the specialness of the screenplay and that we'd better do better than our best on this because there is something special in this film, something people need, like at the end of THE LAST MIMZY. We all felt it and, like the latest A STAR IS BORN movie, we know we were blessed with a lot of things really working and coming together greater than can be expected."
Upcoming screenings for "Tomorrow's Today" in festivals across the globe include the Marina del Rey Film Festival® on July 18th 7:30pm at the Cinemark 18 and XD theater in Cinemascope,
Spring Grove/Caledonia Film Festival – July 23rd-25th,
Lit Laughs International Comedy Film Festival – July 31st,
New York Flash Film Festival – August 1st,
The 4th Dimension Independent Film Festival – August 28th-30th,
Los Angeles Cinematography Awards – January 2022,
Best Actor Award Film Festival – February 2022,
New York Cinematography Awards – March 10th, 2022.
Media Contact
Company Name: Pendragon Pictures
Contact Person: Susan Goforth
Email: Send Email
Phone: +1 310-480-0837
City: Los Angeles
State: CA
Country: United States
Website: www.pendragonpictures.com