Korean ambassador Santhush Woonjin Jeong joined hands with Earth Day network ambassador Michelle Dilhara for a green initiative.
Climate change and global warming are the greatest threats that humans are facing today. In times, where an estimated 7 million people worldwide die every year due to air pollution. Approximately 100 billion dollars worth of damages were caused due to climate change and extreme weather events, and the highest temperatures in the last 140 years were recorded between 2016 and 2020 (As mentioned by https://www.un.org/press/en/2019/sgsm19607.doc.htm
https://www.climate.gov/news-features/blogs/beyond-data/2020-us-billion-dollar-weather-and-climate-disasters-historical
https://www.climate.gov/news-features/understanding-climate/climate-change-global-temperature).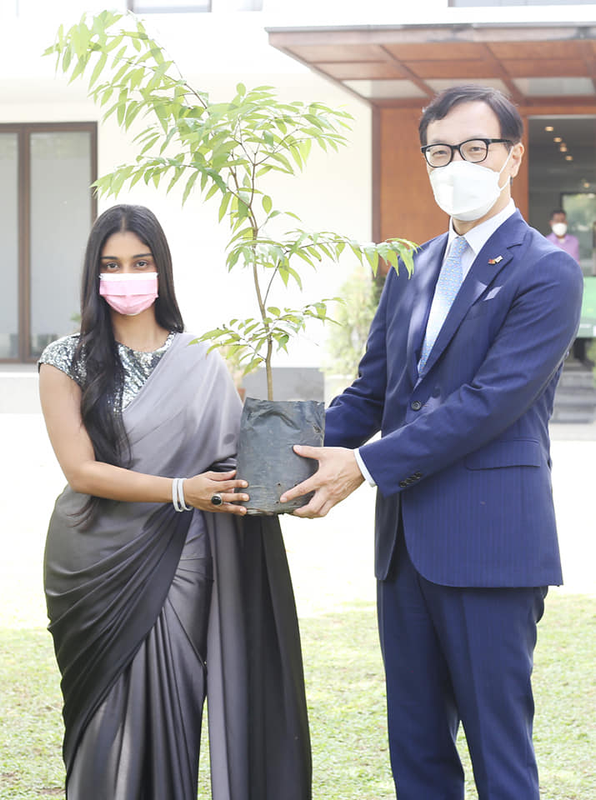 Korean Ambassador to Sri Lanka Santhush Woonjin JEONG and popular award winning Actress and Earth Day Network Ambassador Michelle Dilhara initiated the "Go Green Embassy" campaign as the first green initiative to achieve Net Zero Carbon, Carbon Neutrality and to focus on Sustainable cities and Communities. The event took place on July 1st at the Korean Embassy premises where the Ambassador and Michelle planted a Na tree – the National Tree of Sri Lanka. The sapling was planted to symbolize the 44 years of Korea-Sri Lanka friendship. The "Go Green Embassy" campaign was initiated with regard to the P4G Seoul Summit. The Earth Day Network President Mrs. Kathleen Rogers sent a quote with best wishes, congratulating the Korean Ambassador Santhush Woonjin JEONG and Earth Day Network Ambassador Michelle Dilhara for the Go Green Embassy launch.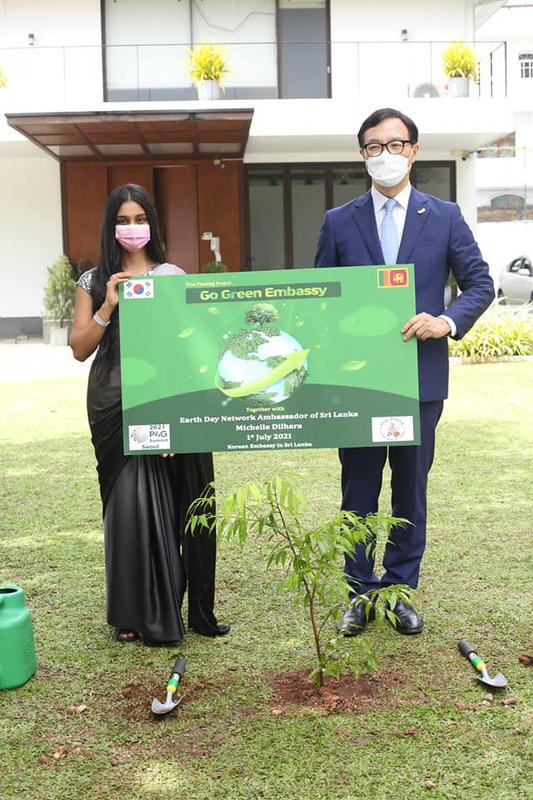 Korean Ambassador Santhush Woonjin JEONG has worked hard to improve Korea-Sri Lanka ties and has a wide network among Sri Lankan celebrities as he was invited as the Guest of Honor for the 25th Sumathi Awards Ceremony – a Sri Lankan popular award ceremony for Film and Television. Recalling the wonderful friendship that has existed between Sri Lanka and Korea for over 40 years, Ambassador Santhush Woonjin JEONG said that he was pleased to launch the Go Green Embassy project at the Embassy premises.
Speaking at the event, the Korean Ambassador to Sri Lanka said that this is a precedent for organizations that are working to reduce emissions into the atmosphere. Ambassador further noted "Korea is a leading country when it comes to promoting green growth and climate action. The Republic of Korea is committed to bridging developing countries and advanced nations towards a greener global economy. Korea was able to implement policies for a successful country-wide reforestation programme and is committed to fostering green growth alliances with countries worldwide. The P4G summit recently held in Seoul successfully is a testament to the unwavering dedication Korea has in accelerating partnerships with countries to offer innovative sustainability solutions. This initiative is in line with the policy of the Korean government and its Sustainable Development Goals."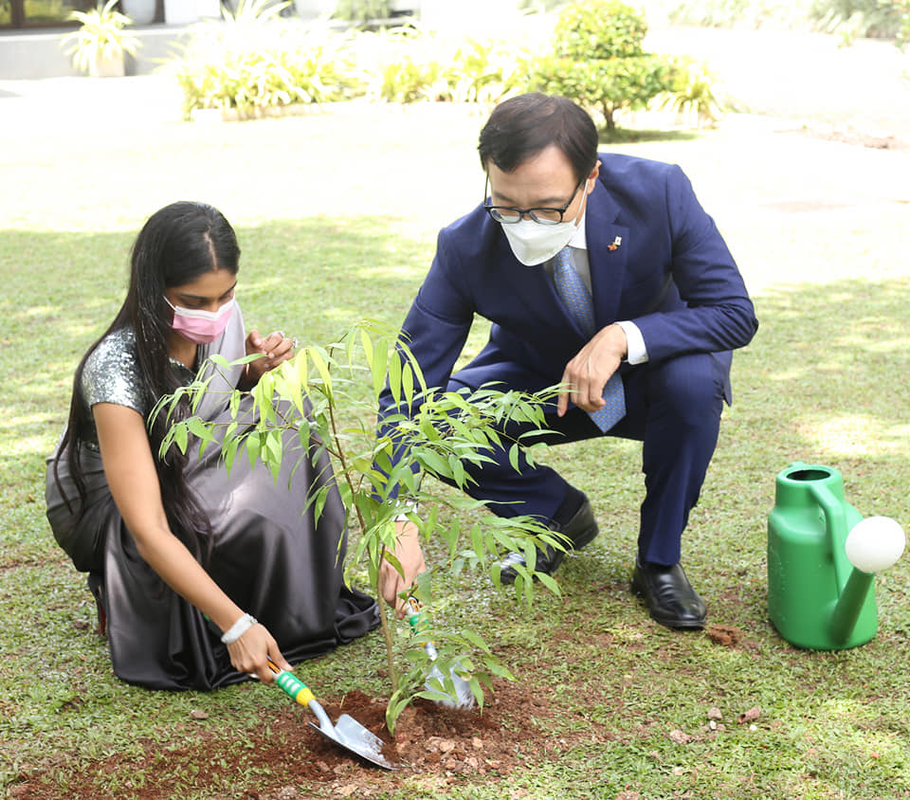 Michelle Dilhara expressed her gratitude to the Korean Ambassador to Sri Lanka for his support of the Go Green Embassy. "I would like to thank the Korean Ambassador Santhush Woonjin JEONG for taking this very big step to take the "Go Green Embassy" initiative together with me. Ambassador Santhush Woonjin is an influential personality who projects the Korean Green Diplomacies to Sri Lanka through his implementations and actions for a positive social change with regard to the P4G Summit, which in turn shows us how much Korea loves nature. As a Green Embassy the Ambassador dedicated in his campaigns in fighting against climate change and global warming because cities are the major contributors to climate change and global warming. Cities consume 78 per cent of the world's energy and produce more than 60 per cent of greenhouse gas emissions. But still that's less than 2 per cent of the Earth's surface. In this regard, this "Go Green Embassy" campaign will become a step towards a climate action to protect this globe."
Media Contact
Contact Person: Michelle Dilhara
Email: Send Email
Country: Sri Lanka
Website: https://overseas.mofa.go.kr/lk-en/index.do