The Book of Easy Answers: For the Questions You Wish You Didn't Have to Ask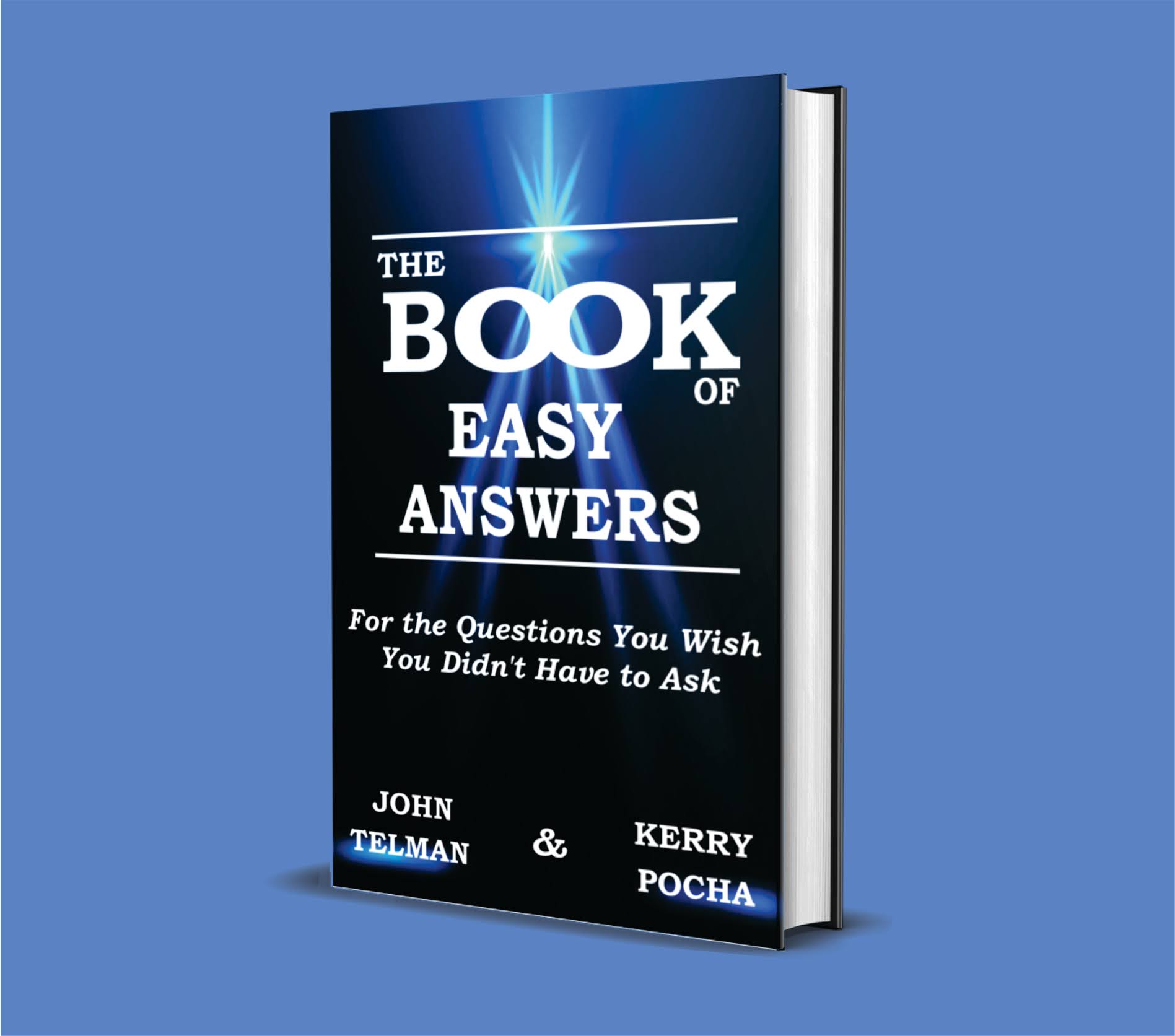 Kharis Publishing today announces the release of "The Book of Easy Answers: For the Questions You Wish You Didn't Have to Ask" (ISBN: 978-1637460344) by John Telman & Kerry Pocha; a clear and precise articulation of Christian answer for the big questions of life and the hope that Christians have in Christ.
CHICAGO, Ill. – Troubles and difficulties are inevitable. No one is exempt from pain. Answers are not only sought to relieve pain but to provide an explanation for the existence of problems in the first place. The answer to any given trouble is often not quickly found no matter how hard one looks.
Two highly experienced ministers have teamed up to provide some answers from the perspective of God's loving desire to answer our many questions. They do not claim to have the answer in themselves, but drawing from scriptural directives, personal experiences, and the testimonies of those who have lived and received God's answers, they hereby present some time-tested answers for the seeker. The Book of Easy Answers will promote hope and will bring welcome encouragement because the answers come from a loving God.
Video Link: https://www.youtube.com/embed/CYqoGdIbKvI
According to Elvin Foong, Founder / Director of The Treasure Box Singapore, "In an age of the internet "clickbait" and fake news, what we need is not more self-help or sensationalized supernaturalism, but practical truth presented clearly and engagingly. "The Book of Easy Answers" clearly lays out for every Christian the basis of the hope that we have in Christ, and how He is indeed all that we need in every situation. Through authentic anecdotes, sound exegesis, and an examination of historical and cultural contexts, John and Kerry show us how and why we should turn our head knowledge into true, simple, heart-converted faith. It is my honor to endorse "The Book of Easy Answers," and my pleasure to wholeheartedly recommend it as a resource for every believer who needs easy answers to life's difficult questions."
The Book of Easy Answers is published by Kharis Publishing and is now available wherever books are sold, including Amazon: https://www.amazon.com/dp/1637460341/
Retailers and other agencies may order copies from Ingram Content Group or through the publisher (ISBN: 978-1637460344): https://www.kharispublishing.com/john-kerry
John Telman is a pastor and educator with 26 years of experience. These years include ministry in Canada, the USA, and Singapore. He and his wife, Carole are authors and adjunct professors at a number of Christian Colleges.
Kerry Pocha has served God by helping children and troubled youths for over 25 years throughout Canada and in the East Kootenays of British Columbia where he eagerly seeks God's next adventure with his wife, Shawndelle, and daughter, Robyn.
John and Kerry are true friends and value each other's ability to communicate God's Word.
About Kharis Publishing:
Kharis Publishing, an imprint of Kharis Media LLC, is an independent book publisher focused on inspirational and faith-based books. Kharis' dual mission is to give voice to underrepresented writers and equip orphans in developing countries with literacy tools. That is why, for each book sold, the publisher channels some of the proceeds into providing books and computers for orphanages in developing countries, so these kids may learn to read, dream, and grow.
Learn more at: https://www.kharispublishing.com/
Check out other Kharis Books at https://www.kharispublishing.com/catalog
Media Contact
Company Name: Kharis Media LLC
Contact Person: Rufus Philip
Email: Send Email
Phone: (630) 423-6309
City: Aurora, Chicago
State: IL
Country: United States
Website: www.kharispublishing.com