Traxion Designs World's First All Weather Step Treads – Now Available and Shipping Nationwide

"The idea for Traxion came about when a family member slipped and fell on some stairs at our lake house after several people had already had a near miss due to the algae growing on the wooden steps at the boat dock. George has an extensive background in product design and engineering, so we set about the task of developing the world's very first non-slip tread for all weather conditions." – Mike Waites, co-founder of Traxion Stair Treads.
Traxion is pleased to announce their release of the world's first all weather step treads. The barefoot-friendly outdoor step tread is available now! The company is based out of Alabama and was founded by brothers Mike and George Waites.
Traxion step treads consist of open slats and aggressive non-slip texture, along with a series of structural ribs and gussets for added strength and durability. Its durable molded engineered polypropylene design is perfect for all-weather, unlike other step treads. While Traxion makes no claims to prevent falls, each tread can be easily installed in wood or concrete steps to provide additional grips for wet or icy environments to create a safer outdoor area.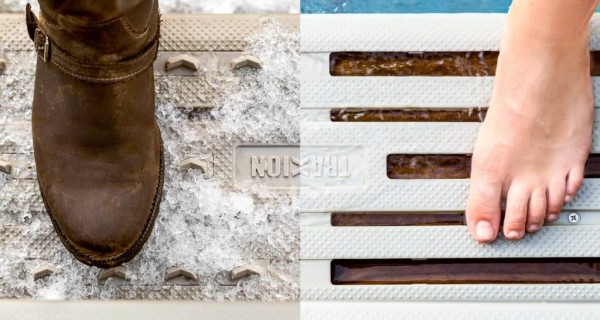 "Safety is a must for any outdoor space. At Traxion, we believe the weather should never leave you struggling to make your way up and down stairs. Our all-weather step treads have been perfected over time to create safer outdoor spaces for your family and friends to enjoy year round." – George Waites, co-founder of Traxion Stair Treads
The innovative open slat design sheds heat rapidly, making Traxion a great barefoot-friendly alternative to hot rubber treads that soak up too much sun. It also allows room for users to add the optional snow inserts that fit between these slats to provide additional aggressive grip in the form of raised gussets designed to add additional grip in snowy and icy conditions.
From a durability point of view, customers can rest assured that Traxion is made with the highest quality molded engineered polypropylene material that was tested under extremes of both temperature and exposure to UV light. These custom engineered deck stair covers will hold up for years outdoors in the most extreme of environments.
Traxion now offers customers the ability to order the world's first and only all weather outdoor step treads with installation hardware and instructions included. Even though winter is a while off at the time of writing, the snow inserts are also available and shipping out now to provide extra grip during the icy parts of the year. Each box of 24 inserts fits 1 box of 4 steps treads. Yellow inserts to increase visibility are coming soon, but for now you can select either the tan or gray option for your treads and inserts.
Visit https://traxiontreads.com/ to learn more or to place your order for the all-new Traxion stair treads.
Media Contact
Company Name: Traxion
Contact Person: George Waites
Email: Send Email
Country: United States
Website: https://traxiontreads.com/