TGF-Beta Inhibitor Pipeline Insight, 2020 by DelveInsight

(Albany, US) DelveInsight has launched a new report on TGF-Beta Inhibitor Pipeline
TGF-Beta Inhibitor Pipeline Insight, 2020 report by DelveInsight outlays comprehensive insights of present scenario and growth prospects across the mechanism of action. A detailed picture of the TGF-Beta Inhibitor pipeline landscape is provided, which includes the topic overview and TGF-Beta Inhibitor mechanism of action. The assessment part of the report embraces, in-depth TGF-Beta Inhibitor commercial assessment and clinical assessment of the pipeline products under development. In the report, detailed description of the drug is given which includes the product description, mechanism of action of the drug, clinical studies, NDA approvals (if any), and product development activities comprising the technology, collaborations, licensing, mergers and acquisition, funding, designations, and other product-related details.
Transforming growth factor β (TGF-β) is part of a larger superfamily of secreted dimeric multifunctional proteins that also includes activins and bone morphogenetic proteins. It plays an important role in embryogenesis and in maintaining tissue homeostasis in multicellular organism. TGF-β elicits highly context-dependent effects on many different cell types. Hence, anomalous TGF-β signaling can result in numerous diseases, including cancer. TGF-β signaling can have a dual role in cancer. The TGF-β signaling pathway can be activated through the interaction of TGF-β ligand with its cognate type I and type II single-pass transmembrane receptors (i.e., TβRI and TβRII, respectively) that are endowed with intrinsic serine/threonine kinase activity . Three TGF-β isoforms have been identified, TGF-β1, 2, and 3, which share 70% sequence identity, bind the same TGF-β type I and type II receptor complex and activate the same downstream intracellular signaling pathways. TGF-β plays an important role in altering early epithelial cancer cells to invasive metastasis cancer cells by promotion of EMT. TGF-β can activate transcriptional factors such as SNAIL1/2, ZEB1/2 and TWIST1/2 that mediate EMT in these tumors by in a SMAD-dependent manner.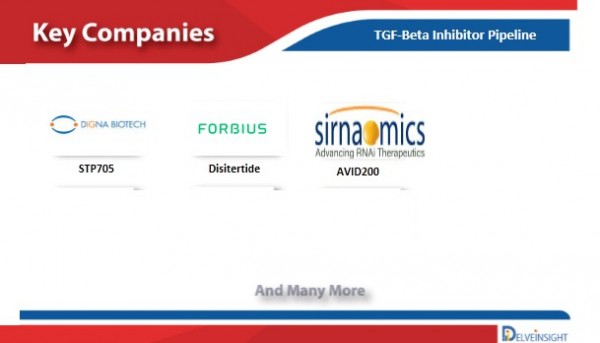 Request for free sample page: – https://www.delveinsight.com/sample-request/tgf-beta-inhibitor-pipeline-insight
TGF-Beta Inhibitor pipeline development activities
The report provides insights into:
All the companies developing therapies of TGF-Beta Inhibitor with aggregate therapies developed by each company for the same.
Different therapeutic candidates in early-stage, mid-stage and late stage of development for TGF-Beta Inhibitor.
Key players involved in TGF-Beta Inhibitor targeted therapeutics development with respective active and inactive (dormant or discontinued) projects.
Drugs under development based on the stage of development, route of administration, target receptor, monotherapy or combination therapy, a different mechanism of action, and molecular type.
Collaborations (company-company collaborations and company-academia collaborations), licensing agreements and financing details for future developments of TGF-Beta Inhibitor.
The report is built using data and information traced from the researcher's proprietary databases, company/university websites, clinical trial registries, conferences, SEC filings, investor presentations, and featured press releases from company/university web sites and industry-specific third party sources, etc.
TGF-Beta Inhibitor Pipeline
Sirnaomics leading product candidate,, is an siRNA (small interfering RNA) therapeutic which takes advantage of a dual-targeted inhibitory property and polypeptide nanoparticle (PNP)-enhanced delivery to directly knock down both TGF-β1 and COX-2 gene expression. Preclinical animal models using STP705, have demonstrated a dramatic improvement in T-cell penetration into tumors in the liver with single agent action as well as improvement in the efficacy of an anti-PD-L1 antibody checkpoint inhibitor in an HCC model. This effect may improve other immune checkpoint inhibitor efficacies in addition to those targeting the PD-1/PD-L1 axis. NCT04293679: This is an open label, dose escalation study to evaluate the safety and efficacy of intralesional injection of STP705 in adult patients with Cutaneous Squamous Cell Carcinoma in situ (isSCC, Bowen's disease). The purpose of this trial is to evaluate the safety, tolerability and efficacy of various doses of STP705 administered as Intralesional injection in subjects with isSCC. The trial is currently recruiting with an estimated enrolment of 25 participants and is expected to be completed in September 2020.
Emerging drugs included in the report
STP705: Sirnaomics
Disitertide: Digna Biotech
AVID200: Forbius
AVID300: Forbius
Report Scope
The TGF-Beta Inhibitor report provides an overview of therapeutic pipeline activity and therapeutic assessment of the products by development stage, product type, route of administration, molecule type, and MOA the complete product development cycle, including all clinical and nonclinical stages.
It comprises of detailed profiles of TGF-Beta Inhibitor therapeutic products with key coverage of involved technology, collaborations, licensing, mergers and acquisition, funding, designations and other product-related details.
Elucidated TGF-Beta Inhibitor research and development progress and trial details, results wherever available, are also included in the pipeline study.
Coverage of dormant and discontinued pipeline projects along with the reasons if available across TGF-Beta Inhibitor.
Request for free sample page: – https://www.delveinsight.com/sample-request/tgf-beta-inhibitor-pipeline-insight
Table of content
1. Report Introduction
2. TGF-Beta Inhibitor
3. TGF-Beta Inhibitor – DelveInsight's Analytical Perspective
4. Therapeutic Assessment
5. Late Stage Products (Phase-III)
6. Mid Stage Products (Phase-II)
7. Early Stage Products (Phase-I)
8. Pre-clinical Products and Discovery Stage Products
9. Inactive Products
10. Dormant Products
11. Discontinued Products
12. TGF-Beta Inhibitor Product Profiles
13. TGF-Beta Inhibitor Key Companies
14. TGF-Beta Inhibitor Key Products
15. Dormant and Discontinued Products
16. TGF-Beta Inhibitor – Unmet Needs
17. TGF-Beta Inhibitor – Future Perspectives
18. TGF-Beta Inhibitor Analyst Review
19. Appendix
20. Report Methodology
21. About Delveinsight
Related Reports
Media Contact
Company Name: DelveInsight Business Research LLP
Contact Person: Yash Bhardwaj
Email: Send Email
Phone: +919650213330
Address:304 S. Jones Blvd #2432
City: Las Vegas
State: NV
Country: United States
Website: https://www.delveinsight.com/