Global Syn-Turf Expands Use of 100% Recyclable Artificial Grass in Two New Turf Products to Help The Economy and Reduce Pollution
Pleasanton, CA – Global Syn-Turf, Inc. announced the release of two new artificial grass products that made of fully recyclable materials. Full Recycle-60 and Full Recycle-91 synthetic turf from GST (Global Syn-Turf,) which has long been manufacturing recyclable turf, will now be 100% recyclable. With the expansion of synthetic grass to these products, households in the United States will have access to regionally distributed eco-friendly artificial grass that can be recycled after years of use and offers an affordable, luxurious and sustainable alternative to traditional lawns and playground surfaces.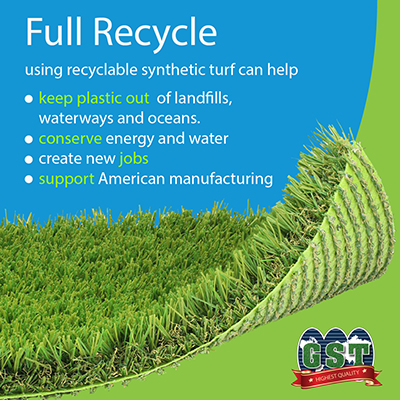 "We have made significant strides on our journey to use more sustainable artificial grass," said Shannon Beck, Vice President of Global Syn-Turf, Inc. "Turf that can be 100% recycled toward the end of lifespan, like Full Recycle Series, provide tangible proof that recycling works and the circular process for turf is achievable. Producing fully recyclable turf reduced the need for new plastic, and supports jobs in recycling and reuse activities in the United States."
Recycling has become an increasingly critical issue in the United States as both the population and the amount of waste each person generates continue to grow. According to recent studies, 75 percent of the national recycling rate would create nearly 2.3 million jobs by 2030 while reducing pollution. The US Recycling Economic Information Study (REI) has shown that recycling creates nearly eighty percent more jobs than the US Solid Waste Management industry.
Studies have shown that artificial grass installed in the United States annually conserves more than three billion gallons of water, eliminates nearly a billion pounds of fertilizers and pesticides, significantly decreases smog emissions and pollution caused by gas and oil spills from refueling lawn equipment. Synthetic turf consumes less energy, raw materials, and generates less solid waste than natural grass fields. Recyclable synthetic grass conserves natural resources, increases economic security by tapping a domestic source of materials, prevents pollution, saves energy, creates new jobs, and supports American manufacturing.
"The economic and environmental reconciliation is not as unrealistic as it seems," said Greg Weitz, Vice President of Global Syn-Turf, Inc. "Some corporations see win-win opportunities in developing eco-friendly products as insignificant because of the rising costs of environmental compliance with no net-positive financial returns, but at Global Syn-Turf, we believe that a strong global economy is sustainable only if it integrates social, economic, and environmental well-being. All our artificial grass products are manufactured from the highest quality, 100% lead-free materials, and thoroughly tested in independent laboratories. Full Recycle turf series goes beyond compliance in reducing pollution from industrial processes. The shift to increasing energy efficiency and water conservation by installing synthetic turf doesn't only benefit the customers economically but also results in environmental payoffs."
New Full Recycle artificial grass features Global Syn-Turf's "Double W" blade yarn that offers visual realism, high performance, and resiliency, and a premium green backing system for enhanced permeability and dimensional stability. Double W blade creates the manufacturer's most natural-looking yarn to date. These professional-grade fibers provide a natural appearance of real grass and flowless resilience, most evident in high-traffic areas. Field green and olive green yarn colors with brown and green thatching deliver color clarity, brightness, and durability, resulting in enhanced aesthetics.
About Global Syn-Turf, Inc.
As a leading manufacturer of artificial grass in the United States with headquarters in Pleasanton, California, Global Syn-Turf, Inc. focuses on sustainable and environmental stewardship in producing high-quality eco-friendly artificial grass and support systems for clients in the home-improvement industry. Global Syn-Turf, Inc. manufactures more than 150 million square feet of synthetic turf annually. With the largest inventory in the United States and distribution facilities across the country, Global Syn-Turf, Inc. has a synthetic turf portfolio of all types and price points.
Media Contact
Company Name: Global Syn-Turf, Inc.
Contact Person: Shannon Beck
Email: Send Email
Phone: (877) 796-8873
City: Pleasanton
State: CA
Country: United States
Website: https://www.globalsynturf.com