Aumuca Introduces The Most Effective Way To Improve Cat's Hair Quality, Makes Pet Grooming Easy
Eliminate matted furs, odor, and dirt using Aumuca's self-cleaning slicker brush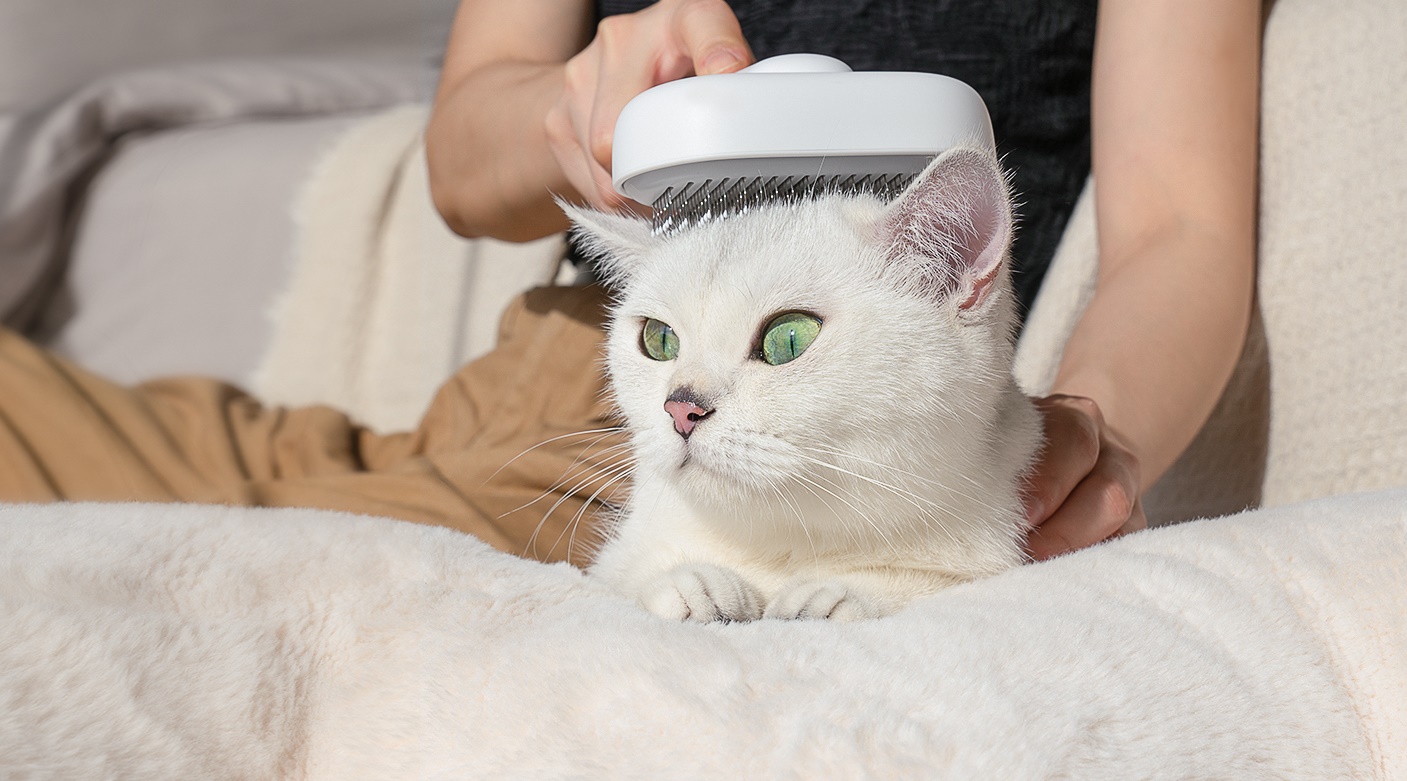 The industry-leading cat supply company, Aumuca, has introduced the most efficient and effective way to groom cats using a top-quality self-cleaning slicker brush. With the self-cleaning slicker Aumuca cat brush, cat owners can get rid of matted furs in just a couple minutes without breaking a sweat. The slicker brushes are uniquely designed using advanced technologies to produce cutting-edge solutions for cat grooming. While the brush helps to trim long-haired pets and detangle matted furs, it also works to remove trapped dirt, odor, grease stain, dead hair, etc.
Established in 2019, Aumuca has significantly been concerned with manufacturing top-tier pet products to improve the skin conditions of pets and the quality of their lives. The brand ensures that with its self-cleaning slicker cat brush, pet grooming is facilitated in the most unique and efficient way. Aumuca prioritizes pets' health conditions by ensuring that the cat's loose hair is cleared up gently without harming the cat's skin in the process. The self-cleaning slicker cat brush is fibre adhesive, making it a lot easier to eliminate the cat's loose undercoat. More so, to ensure that the cat's overall health condition is improved, Aumuca designs the brush in a way that it can be easily used, such that when users push the button on the brush, the fur lifts up immediately; this sets the brand apart from other brands in the industry.
In addition, the Self-cleaning cat slicker brush is designed with skin-friendly massage particles, a brilliant hair release mechanism, and a silicone loop strap on the end of the anti-slip handle, making it easy to be handled. With Aumuca, cat groomers have got everything covered in the best way possible, from the removal of furs to skin flakes and even down to shed hair.
Aumuca cat brush is the most efficient way to enhance the quality of coats, making the cats more comfortable. The company is not just about providing quality pet products but offering an excellent customer experience for users. It ships products to any part of the world, offers a 30-day money-back guarantee and provides 24/7 online support to those in need of the service. All payment methods are flexible and highly secure, so customers have absolutely nothing to worry about when it comes to making transactions.
"Aumuca was established in 2019 as a cat supply company. The founder is a programmer who adores cats and currently owns six stray cats. After being plagued by cat hair for a long time and failing to find grooming products that truly focused on the cat experience, he decided to solve the problem and became a cat grooming product developer. Our mission is to make cat grooming at home simple and enjoyable for cats. By focusing on the ultimate cat experience, we hope to change the future of pet grooming," said the company's spokesperson.
Aumuca cat brush has attracted a lot of 5-star reviews from satisfied clients across the globe. Robin Robinson said, "Wish I would have had this brush a long time ago. It is absolutely wonderful. So easy to use. I've used it once on my cat, and I can't believe the amount of hair that I got off of her compared to the old brush I was using."
In Nia's words, "This brush is easy, easy! Dinosaur purrs and sticks around during the whole process with this brush. It took me maybe 5 minutes, and done! The clean-up makes me giggle – it is so easy! Best pet purchase I have made this year, for sure!"
For more information, visit https://www.aumuca.com/
Tiktok: https://www.tiktok.com/@aumuca.official
Facebook: https://facebook.com/aumuca
Pinterest: https://www.pinterest.com/AumucaOfficial/
INS: https://www.instagram.com/aumuca.official/
Media Contact
Company Name: Shenzhen YWB Technology Co., Ltd.
Contact Person: Javen
Email: Send Email
Country: China
Website: https://www.aumuca.com/