Therapy Spot Uses Teletherapy to Put Client's Needs First During the COVID-19 Pandemic
Toronto Clinic Goes Online to Deliver Innovative Speech-Language Therapy and Behaviour Analysis.
Launched in 2014 when Traumatic Brain Injury (TBI) therapist Simone Friedman teamed with Australian speech-language pathologist and recognized autism expert Ophelia Reid, Therapy Spot expanded its service options to include one-on-one counselling, Early Start Denver Model (ESDM) and Applied Behaviour Analysis (ABA) for autistic children, Gestalt Applied Behaviour Analysis, social skills groups, workshops for parents, and a full range of consultative services that can take place at school, the HR department in a workplace, as part of a family session, or in an individual's home.
Through its proven evidence-based online Teletherapy service, the Therapy Spot team is committed to supporting its clients with stellar, outcome-focused programs for clients in the Greater Toronto Area even during the COVID-19 pandemic. Removing the barriers of distance and self-isolation, Teletherapy offers a catalogue of services for children, adults, and families via live videoconferencing so that clients can continue to rely on receiving the care and support they need during these trying times.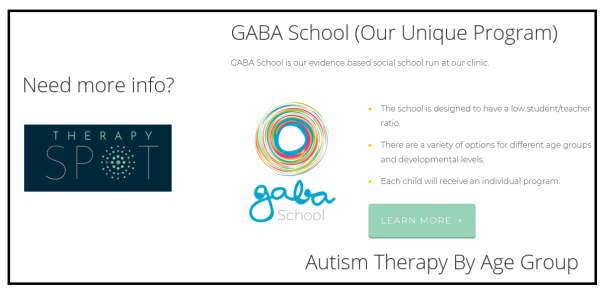 The key features and benefits of choosing Therapy Spot Teletherapy include:
Service and treatment options available through Teletherapy include therapy for Learning Difficulties (reading, writing, listening, and executive functions); concussion, stroke, and traumatic brain injury; articulation or stuttering; oral myofunctional difficulties; and accent reduction.
Family-focused support is also a key component of Therapy Spot Teletherapy, allowing clients to address their child's Behaviour difficulties during these challenging times as well as providing parent learning, coaching, and support groups.
Specialization allows for Therapy Spot to focus on the 6 core areas of expertise, allowing its team to ensure data-driven customized programs that address a client's unique needs.
Convenience of service whether that means hosting clients in the beautiful, accessible Therapy Spot clinic or visiting a client at their home, workplace, school, or location of his or her choosing. Open six days of week, Therapy Spot also offers full online booking and payment through their easy-to-use website.
Recognized expertise and commitment to evidence-based treatment are the foundations upon which the success of Therapy Spot is built. Therapy Spot's Speech-Language Therapists contributed to the writing of the Mild Traumatic Brain Injury Guidelines as well as guidelines for the Ontario Speech Language Association.
About Therapy Spot
Therapy Spot was founded in 2014 when TBI therapist Simone Friedman and noted autism expert Ophelia Reid teamed up to provide Greater Toronto and surrounding communities with exemplary care its core areas of focus: autism, acquired and traumatic brain injury, children's speech and learning disabilities as well as concussion and stroke. Specializing in the integration of Early Start Denver Model (ESDM) and Applied Behaviour Analysis (ABA), Therapy Spot also offers the unique GABA (Gestalt Applied Behaviour Analysis) School program. Here is the driving direction – Toronto Speech Therapy.
Media Contact
Company Name: Therapy Spot
Contact Person: Media Relations
Email: Send Email
Phone: 416-546-3044
Address:1232 Dufferin St
City: Toronto
State: Ontario M6H 4C3
Country: Canada
Website: https://therapyspot.ca/