King Koating Roofing Brings a Customized Approach to Every Commercial Roofing Project

Specialists in Commercial Flat Roofing, KKR Matches Solutions to Specific Needs.
King Koating Roofing is a commercial flat-roofing contractor with over 20 years experience constructing and repairing commercial roofs for clients across the Greater Toronto Area (GTA) and surrounding communities. Approaching each project as a unique opportunity to design and install the roofing solution that best matches a client's needs, KKR offers a full catalogue of professional services, including roofing design and installation or roof replacement for both metal and single-ply roofing, waterproofing, and full roof maintenance.
King Koating Roofing is all about options. For clients interested in creating a seamless, uniform service that reduce the impact of thermal stresses caused by fluctuation in seasonal temperatures, King Koating Roofing are experts in the application of commercial elastomeric coatings. Expanding and contracting with the changing weather conditions, these highly adhesive coatings are perfect for new installations or commercial roof upgrades. They not only protect the roof surface from the sun's damaging UV rays but offer energy-saving qualities along with a clean, bright appearance and reduced maintenance costs.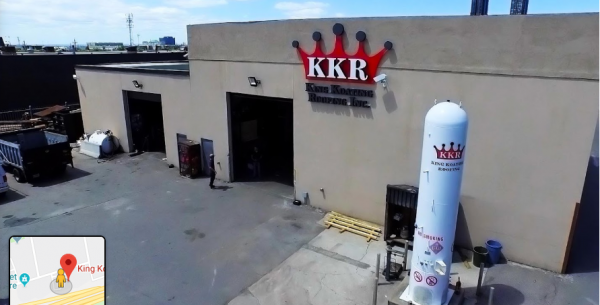 The key features and benefits of choosing King Koating Roofing for your commercial roofing needs include:
Specialization means that King Koating Roofing focuses

only

on commercial and industrial roofing. KKR is not a general roofing company that takes on residential and commercial projects; it focuses on doing one thing only and doing that one thing exceptionally well.
Customized options mean that every client's specific needs are matched with the most effective solution for the job. This means that KKR considers all design elements, environmental impacts, intended use, and overall installation and future maintenance costs when presenting options to its clients.
Commercial flat roofing saves money on both initial installation (calculated per square foot) and on follow-up maintenance compared to other roofing styles.
Versatility is part of every flat-roof solution, allowing for every inch of the roof space to be used for such money-saving options as solar panels, air conditioners, rooftop gardens, or even additional living and working space. Other advantages include ease of access and a more versatile interior space in a flat-roof building.
Experience counts and King Koating Roofing has over 20 years of experience in commercial roofing. KKR takes pride in being up to date on the most effective solutions to all commercial roofing problems and on delivering superior craftsmanship to every client. In addition, our staff is on call 24/7 to ensure your roofing needs are dealt quickly and professionally.
About King Koating Roofing
King Koating Roofing designs, builds, and maintains commercial flat-roof solutions for clients across the GTA and surrounding communities. Emphasizing craftsmanship and providing the best solution for each project, KKR provides customized service that takes into consideration the design, use, and long-term sustainability of every commercial roof installed. Whether a new installation, replacement, or repair, KKR can deliver a solution regardless of how big (or small) the roof might be.
Media Contact
Company Name: King Koating
Contact Person: Kevin
Email: Send Email
Phone: (905) 669-1771
Address:41 Peelar Road, Concord
City: Toronto
State: Ontario
Country: Canada
Website: https://kingkoating.com/