Five Best Websites to Buy Asian Jewelry Online
The far away and beautiful Asia!
Even for today, when it is much easier to travel all over the world, it is still not realistic to fly 10,000 miles to buy an Asian vintage ring that you suddenly fall love into with. Thanks to the fast-growing international e-commerce, it is not difficult anymore to own a fantastic jewelry piece from orient part of the planet today and wear it two weeks later.
Let's discover the five best ways of online shopping of Asian jewelry today!
1. Novica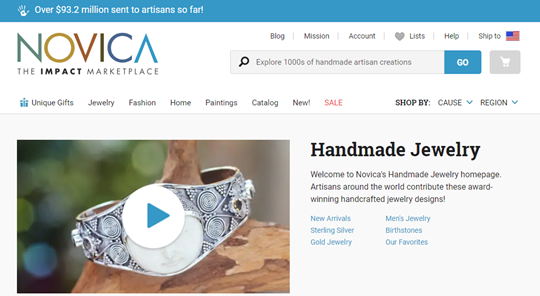 Novica is an e-commerce website that enables artisans to sell their handcrafted goods to customers worldwide. Partnered with the National Geographic Society, Novica shows handcrafted works of art, ranging from handmade jewelry to handmade apparel and world-style home décor. Founded in 1995, Novica has worked together with local crafters for more than 20 years and has sent to them over $93.2 million.
Novica has more than 7000 SKU in the women jewelry section, which includes jewelry from its main product sourcing regions in Asia, such as Bali, India, Thailand. Most of Novica's collections are at an affordable price from 20-50 USD. It is a perfect website to buy exotic Asian jewelry for either your friends or yourself.
2. Etsy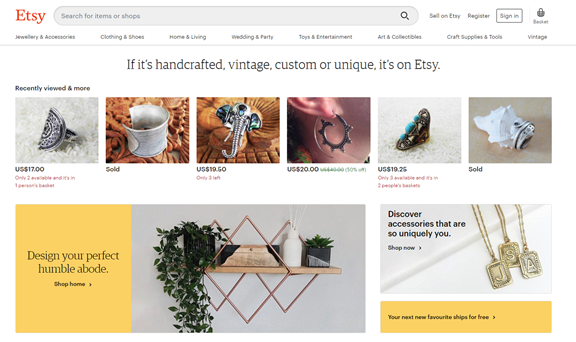 "If it's handcrafted, vintage, custom or unique, it's on Esty."
Etsy is an e-commerce website (etsy.com) focused on handmade or vintage items and craft supplies. Its rich handmade jewelry sources will fit your needs of Asian handmade jewelry in all aspects. Very easy, by searching "Asian jewelry/ring/bracelet" you can find massive well-designed art pieces from Asia made by traditional skills, as well as vintage jewelry made by turquoise, red coral, old silver.
3. Light Stone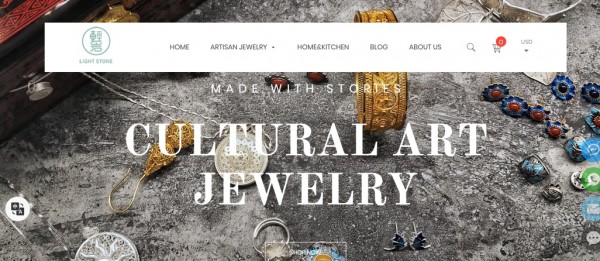 Light Stone is a new online brand focusing on Chinese cultural jewelry. It has gained popularity in West Europe in a short period. It targets on discovering beautiful Chinese jewelry and introducing them to the world. Most Light Stone's jewelry is in vintage style and has cultural elements behind them. Silver, jade, chalcedony, enameling jewelry are the main types of products you can find on Light Stone's website. The average price of Light Stone is around 40 USD. The operation team spent significant effectors on product selection to make sure it fits their A(assurance) B(beauty) C(culture) principles. Light Stone offers free shipping service to most parts of the worlds.
4. Ali Express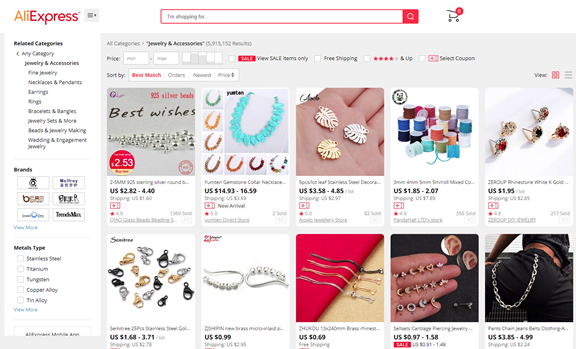 Ali Express is a subsidiary of Alibaba Group. This website targeted in oversea C to C e-commerce trading. It provides an excellent platform for Chinese producers to find individual oversea buyers. Backing up by the massive productions of growing fashion jewelry factories in China, even may not be the best choice for artisan or fine jewelry, Ali Express provides a place for people all over the world to buy affordable fashion accessories online.
Alibaba's strong logistics network helps sellers to reduce transportation cost. If you are patient enough to wait one/two month, it is not a dream to own a beautiful piece of Asian jewelry by only spending 5 USD.
5. Wish
In 2010, Wish began as an app where users would create wish lists for their desired items, and the company would approach merchants to order that particular amount of a product. Now it is one of the most popular oversea shopping websites. Wish's particular pricing system is a bit difficult to understand. However, as long as you can get an excellent product with 80%, 90% discount, it doesn't matter anymore. Compare to Amazon, which is a traditional giant in the e-commerce sector, Wish provides more options in the jewelry sector, with different quality and price levels. You can find a very cheap ring of 1 USD, as well as exceptional fine jewelry such as diamond rings at a fair price.
Media Contact
Company Name: Light Stone Jewellery
Contact Person: Ms. Stone
Email: Send Email
Phone: +8615618618196
Country: China
Website: https://www.lightstone-jewellery.com/